Sixth DIPECHO Action Plan for South America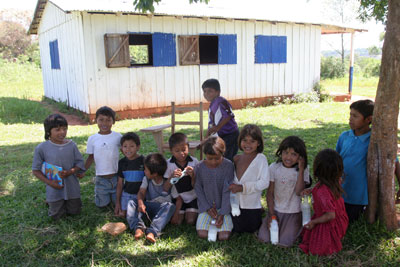 Foto: © UNICEF/Luis Vera
With the financial assistance of the European Commission Humanitarian Aid Department (ECHO), and under the slogan "Strengthening preparedness to ensure the right to education in emergencies, and building a culture of prevention in vulnerable communities in South America," the sixth DIPECHO Action Plan for South America was put in place, covering a period from April 15, 2009 through October 2010.
The primary goal of the project is to strengthen the local capacity of the education sector for disaster reduction, through horizontal cooperation between the ministries of education, and through partnerships with institutions working with this sector, in particular partner institutions of the Sixth DIPECHO Action Plan for South America.
In different forums held in this region, representatives of the ministries of education and international cooperation agencies working on disaster risk reduction in the education sector have agreed that most ministries of education in South America already have tools for addressing risk reduction and emergency preparedness in schools. Only a few countries, however, have national plans or specific policies in place to guide the actions of the education sector towards disaster reduction.
This is why the European Commission Humanitarian Aid Department (ECHO) decided to implement the sixth DIPECHO Action Plan for South America, with participation of institutions that, with this goal in mind, have become DIPECHO's partners.
The chart below reflects the findings of a preliminary damage assessment in the education sector:
| | | | | | |
| --- | --- | --- | --- | --- | --- |
| Provincia | Teachers affected | Studens affected | Schools affected | Furniture affected | Classrooms affected |
| Ica | 3,262 | 74,810 | 562 | 39,937 | 192 |
| Chincha | 2,168 | 49,027 | 416 | 28,357 | 529 |
| Pisco | 1,257 | 30,234 | 167 | 17,099 | 316 |
| Total | 6,687 | 154,071 | 1,145 | 85,393 | 1,037* |
UNICEF Regional Office for Latin America and the Caribbean (TACRO) will be responsible for project general coordination, in order to ensure complementarities, alignment, cooperation and exchanges with similar actions taken in Central America and the Caribbean. The project technical coordination will be carried out from UNICEF office in Peru, since this country also hosts other key institutions for risk reduction, such as the Andean Community of Nations (CAN), the Regional Delegation of the International Federation of Red Cross and Red Crescent Societies in South America (IFRC), and the regional office of the Intermediate Technology Development Group (ITDG).
The project will foster participation of all countries included in the sixth DIPECHO Action Plan (Argentina, Bolivia, Brazil, Chile, Colombia, Ecuador, Paraguay, Peru, Uruguay and Venezuela) in all regional activities planned. Specifically, the project will seek to help a limited number of focal countries (no more than three) implement a number of local activities. The selection of these focal countries will be made on the basis of the following criteria: number of DIPECHO's partners working with the education sector, the commitment showed by the ministries of education to this issue, and complementarities of this initiative with in-country actions furthered by UNICEF.
Coordination of actions between UNICEF, DIPECHO's partner institutions and the ministries of education aims at contributing to the establishment of sectoral priorities related to risk reduction, and strengthening existing cooperation links and partnerships so that policy, tools and capacities for risk reduction in the education sector are developed based on actions taken by local actors, especially those related to preparedness, in order to ensure the right to education in emergency and disaster situations.
For further information, please contact:
Ruth Custode
rcustode@unicef.org