Fifth Anniversary of CIR-UDEFA, in Punto Fijo, Venezuela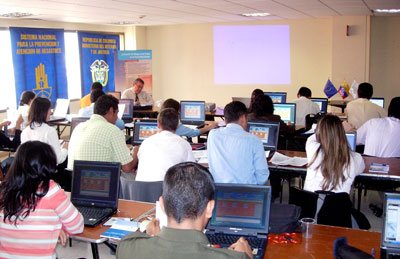 Foto: © PREDECAN
On April 25, the Risk Research Center of the University of Falcon (CIR-UDEFA), located in Punto Fijo, state of Falcon, Venezuela, celebrated its fifth anniversary.
Founded by a group of professionals and academics interested in disaster risk reduction, the Center has been directed since its inception by engineer Juan Murria.
The following are some of CIR-UDEFA's achievements over the past five years:
Three international seminars on "Community Involvement in Risk Reduction Programs." The first seminar was held in Punto Fijo, in October 2002. The second one took place in October 2007 in Coro, the capital city of Falcon state, where the University of Falcon opened its second campus in 2006. A third event was held in September 2008, also in Punto Fijo, and a fourth seminar is scheduled for the fourth quarter of 2010. These events were attended by a large number of private and public university students, as well as distinguished, expert panelists from Japan, the Netherlands, the United States, Mexico, Colombia, Cuba, Barbados and, of course, Venezuela.
Other seminars, workshops, short courses and conferences with the participation of renowned national and international professionals.
On-site seminars and workshops at the following corporations: Total Oil Company of Venezuela, Holcin Cement of Venezuela, and the Stateowned power company Electrificación del Caroní (EDELCA).
CIR-UDEFA's future plans include a project titled "Natural, technological, anthropic and environmental risk mapping for disaster reduction and sustainable development planning in Paraguaná Peninsula, Falcon state," in the framework of the 2001 Basic Law on Science, Technology and Innovation (LOCTI). The project is awaiting formal approval from the Ministry of Science and Technology to launch its activities, which will last throughout 2012. Venezuelan experts and researchers will participate in the project, under the coordination of engineers Ángel Rangel, former director of the National Civil Defense Bureau, and Juan Murria, director of CIR-UDEFA.
For further information, please contact:
Juan Murria
FUNVISIS
jmurria@hotmail.com