RESIS II - Earthquake risk reduction in Central America; A first overview
RESIS II is a project financed by the Norwegian Government, administrated by SE-CEPREDENAC and technically executed by NORSAR in cooperation with numerous professionals from Europe and within Central America. The project has its focus on Guatemala, El Salvador and Nicaragua which are regarded as most vulnerable in terms of earthquake risk, however, professionals from Costa Rica, Honduras and Panama are actively involved in the numerous workshops and training courses. Thereby the goal of a regional stimulus to professional enhancement in earthquake risk reduction competence is sought.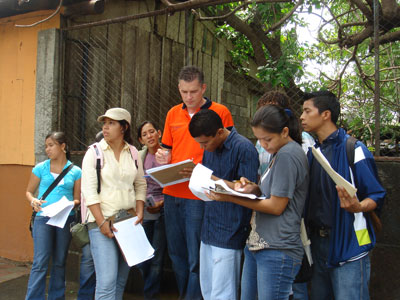 Foto: © CEPREDENAC
The philosophy of RESIS II is "bottom up". This means that as much focus as possible is put on empowering local seismologists and structural engineers with software and knowhow so that future analysis can be conducted with basis in national competence. Three main objectives are sought through the proposed work:
Earthquake risk reduction for targets that are of major importance to the society: public service buildings and installations along with a sample of privately owned buildings will be included on the basis of strategic selection. The first focus on buildings that are critical to the society functioning will be done in parallel with work related to normal residence structures.
Institutional and professional earthquake risk capacity-building in the Central American region. Capacity building will be conducted by primarily following the strategy of learning by doing.
Information dissemination and awareness creation activities.
These main objectives cover fundamental prerequisites for a stable and sustained development.
The earthquake disasters come from the combination of nature and a poor building environment and it is always instructive to recall the difference between two equally sized earthquakes: The 1989 Loma Prieta earthquake that claimed 63 lives in California and the Armenia 1988 earthquake that claimed 25,000 lives. Such examples tell all about preparation and building quality.
The first results from RESIS II are now appearing: a) A third generation regional earthquake hazard map has been prepared, b) New national seismic hazard results for four countries have been completed, c) A seismic microzoning study for the San Salvador metropolitan areas and d) a detailed housing classification with vulnerability functions have been developed. More details on these and other studies under RESIS II will be presented in future issues.
RESIS II collaborates with the CAPRA project and with other regional and local initiatives on all issues of relevance for both projects, and RESIS II will also work in close contact with the Global Earthquake Model (GEM) initiative. Professionals in seismology and earthquake engineering that would like to associate themselves with the project are welcome to contact one of the contact points.
Contact points:
Armando Ugarte (augarte@cepredenac.org); Eduardo Camacho (ecmacho@cepredenac.org); Conrad Lindholm (conrad@norsar.no)