Five years after the tragedy in Vargas (1999-2004): social, political, cultural and economic considerations
Juan Murria
FUNVISIS,
murrias@cantv.net, jmurria@hotmail.com
A quick update
Unfortunately, although not as dramatic as the ones that caused the tragedy in Vargas, the recent extreme climate phenomena (the strong rains that fell in nearly the entire country on February 7-18, 2005), are still worrisome because of the damage caused and their implications. They also confirm concerns that I just had finished writing about regarding the tragedy in Vargas.
As a preamble
I was one of the hundreds of thousands of people affected by this disaster of hydro-meteorological origin that hit most of the Venezuelan Central Coast. At the time, I was living on the thirteenth floor of Costa Brava Residencies, located in "Los Corales", an upper middle-class residential area and one of the most affected ones in state of Vargas.
In an article I wrote for ISDR Inform in 2002, I described the situation I experienced from the evening of Wednesday, December 15, 1999 when the rains fell even stronger until Saturday, December 18, when I was finally rescued by one of the Army vessels and could get to my daughter's house in Caracas, at one o'clock early in the morning of Sunday, December 19.
Now, over five years after the tragedy that we had to endure, I am gathering together comments that were prepared for a conference that I recently delivered at the Central University of Venezuela.
Introduction
During the last five years, much has been said and written about the tragedy in Vargas in December 1999. However, to the best of the author's knowledge there is as yet no comprehensive study of the social, political, cultural and economic aspects of such a disaster.
Without attempting to make up for this lack of information, this article will analyze what we have called "non-technical" aspects of the tragedy in Vargas. In order to try to demonstrate that this tragedy does not differ conceptually from other similar disasters, I will also compare and contrast them with the same aspects of other hydro-meteorological disasters that have occurred recently in the world.
Thus, this article intends to analyze briefly the abovementioned social, political, cultural and economic aspects of the different stages of a disaster (i.e., prevention and mitigation, search and rescue, evacuation, recovery and reconstruction).
Similitudes con otros desastres
Conceptually speaking, from a disaster management standpoint, nothing new happened that has not already been entirely or partially reported about other similar disasters (e.g. Three Mile Island, 1979; Bhopal 1984; Mexico, 1985; Chernobyl, 1996; La Josefina, Ecuador, 1993; Kobe 1995). Clearly, although we can find certain quantitative and local differences, conceptually, there is really nothing new. Nonetheless, as we will see next, many of the myths that have arisen regarding the behavior of the population in disaster situations were confirmed in this tragedy.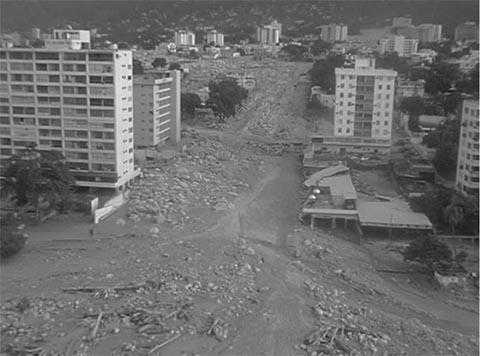 Aspects related to the population:
· Lack of panic among the population
affected.
· Emergence of solidarity among those
affected by this disaster;
· Extensive demonstrations of solidarity among population
and troughout the country, as well as from the
corporations and organizations at both national and
international levels;
· An excessive number of volunteers, which
brought about counterproductive effects,
such as confusion, disorganization and
problems for the authorities; and,
· Despite what the media reported, there
were only a few cases of looting and
vandalism.
Aspects related to the authorities
Lack of emergency plans to cope with disaster situations;
As a result, an "ad hodcracy" emerged to manage this tragedy, with predominance of representatives of the National Armed Forces, to the detriment of specialized bodies (Civil Defense and Fire Departments, rescue teams, and volunteers).
Use of the disaster in Vargas for propagandist political purposes.
Deficient use of material and financial resources obtained from national and international aid.
Serious contradictions in the information provided by different agencies and bodies -official and non official- on the number of affected and injured people.
Deficiencies in relocating the affected population. These deficiencies still persist, five years after the tragedy.
Failure of the media to manage information appropriately.