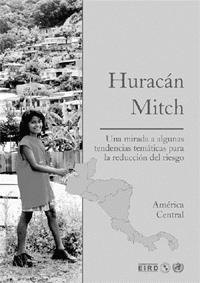 Hurricane Mitch:
A Glance at Some Thematic Trends in Risk Reduction in Central America
(only available in Spanish)
International Strategy for Disaster Reduction (ISDR)
www.unisdr.org
Pan-American Health Organization (PAHO) / Regional Office of the World Health Organization (WHO)
www.paho.org
Hurricane Mitch: A Glance at Some Thematic Trends in Risk Reduction in Central America brings together the efforts by several experts who, from a regional and community perspective, strove to find answer to questions such as: how do communities organize in the event on a disaster? How do they handle stress, crisis, psychic trauma, and the loss of loved ones? How do they participate in daily decision making to reduce risk?
The authors also analyze the trends in international cooperation and Central American civil society in the process of transformation ignited by Hurricane Mitch.
The thematic approach employed in this book seeks to recover the experiences and trends in risk reduction in Central America. It is a valuable contribution to the thinking that must guide decision makers in the field of disaster management, and complements the many other studies and reports produced as a result of Mitch, one of the most devastating disasters ever to hit the Central American Isthmus.
This book may be consulted online at the following sites:
www.crid.or.cr - www.paho.org/spanish/ped/pedhome.htm - www.disaster.info.desastres.net/saludca/desastresCR