Activities in Latin America
and the Caribbean
Peru
The National Civil Defense Institute organized a national earthquake drill to celebrate World Disaster Reduction Day. The drill was carried out at 11 a.m. on 11 October. Its goal was to assess the response capacity of the general population, as well as of specialized agencies, and raise awareness of seismic risk. The results were highly satisfactory and justified the months of preparation by the National Civil Defense System (SINADECI). The media played a key role in supporting and publicizing the initiative.
For more information, please contact:
General Segundo Arnao Laos
Jefe, INDECI
Tel (511) 224-2356
Fax (511) 224-3349

Costa Rica
The Institutional Emergency Commission of the University of Costa Rica (CIE-UCR) celebrated World Disaster Reduction Day by carrying out a fire and seismic drill in the Faculty of Education on 13 October. That afternoon, a forum was held on the new National Emergency Law of Costa Rica. Both activities were a success. On 25 October, another fire drill was organized at the School of Nursing of the University of Costa Rica.
For more information, please contact:
Sergio Paniagua
Coordinador Ejecutivo
CIE-UCR
spaniagu@cariari.ucr.ac.cr

Venezuela
All year long, states such as Barquisimeto and Merida organized a variety of activities related to the 1999 IDNDR campaign. In August, a workshop was held on Local Risk and Disaster Management; in September, a Technical and Policy meeting on Local Risk Management was held. Both workshops were aimed at developing strategic proposals, finding ways of implementing them, and publicizing them through the media. During one week in October, the national press published several articles about the Campaign. On 13 October, a radio call-in show concerning natural disasters, and particularly seismic risk, was transmitted in the most populated states of the country. In addition, press kits with IDNDR material were prepared and distributed to the media.
For more information, please contact:
Alejandro Linayo
Centro de Estudios para Emergencias y Desastres Mérida/Venezuela
alejo@Bolívar.funmrd.gov.ve

Dominican Republic
From the week of 10-17 October, several events were organized in all the provincial and municipal directorates, including radio shows, forums, intensive courses, lectures, workshops and panels. Topics included risk management, the role of Civil Defense in the event of a natural disaster, land use, and hydro-meteorological hazards.
For more information, please contact:
Defensa Civil
Tel (1-809)689-2882
Fax (1-809) 689-3808
d.civil@codetel.do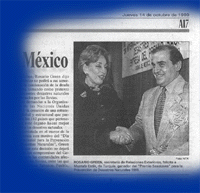 U N - Sasakawa Disaster Prevention Award

The UN Sasakawa Disaster Prevention Award is sponsored by the Nippon Foundation, a private non-profit organization, to reward the most significant and constructive initiatives in disaster prevention, particularly the protection of vulnerable communities around the world. The award carries a prize of $50,000 and is managed by the International Decade for Natural Disaster Reduction (IDNDR) since 1998.

This year's winner was Mustafa Erdik, Professor of Earthquake Engineering at the Kandilli Observatory and Earthquake Research Institute in Istanbul, Turkey, in recognition of his personal commitment of many years to disaster prevention, particularly seismic damage reduction.

The award was presented at a ceremony organized by the United Nations and the government of Mexico on 13 October 1999 in Mexico City.
---
Previous winners of the UN Sasakawa Disaster prevention Award
1987
Ratu Kamieses Mara, Fiji
1988
ESCAP/Typhoon committee, Philippines
1989
Relief and Rehabilitation Commission, Ethiopia
1990
Julio Kuroiwa, Peru
1991
Franco Barberi, Italy
1992
Geophysical Institute of the National Polytechnic University,
Ecuador
1993
Dr. Vit Karnik, Czech Republic
1994
National Emergency Commission, Costa rica
1995
Deserted
1996
Dr. Ian Davies, United Kingdom
1997
1 – Southwestern Seismological Observatory (OSSO), Colombia
2 – Dr. A.S. Araya, India
1998 1 – H.E. Mr. Dou Ji Cai Rang, China
3 – Prof. Wang Ángela-Sheng, China
1999 Prof. Mustafa Erdik, Turkey
For more information about the award, please contact the IDNDR-ISDR Secretariat.