Symposium on Flood Forecasting in the Americas
16-19 November 1999, Brasilia, Brazil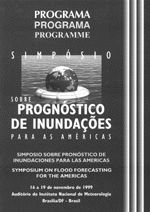 The UN Department of Economic and Social Affairs (UNDESA) and the National Weather Service/National Oceanic and Atmospheric Administration (NWS/NOAA) brought together more than 80 representatives from 40 countries of Latin America and the Caribbean, as well as experts from Europe and North America, to participate in a Symposium of Flood Forecasting in the Americas. The meeting took place in Brasilia on 16-19 November 1999, and was cosponsored by the Brazilian National Meteorological Institute (INMET), the Central American Committee on Water Resources (CRRH), the IDNDR Secretariat, and the World Meteorological Organization (WMO).
Among the topics discussed was the management of water resources. National and regional case studies were presented, as well as various papers on issues such as the IDNDR strategies for a safer 21st Century, early warning systems, and models to estimate the impact of climate changes.
Close to 97.5% of water on earth is salt water. Only 2.5% is potable, of which only 1% is available for human consumption. Not surprisingly, then, competition for this precious resource is generating conflicts between countries, economic sectors and local governments. In fact, conflicts related to access to water are becoming key points in the political negotiations between states.
Experts attribute the growing number of water-related disasters to climate change and rapid urbanization, among other factors. The increase in the frequency and magnitude of floods and drought also increase the vulnerability of the population to extreme weather conditions and the risk of too much water, or not enough.
The chief product of the symposium was a series of guidelines for countries to improve their capacity to prevent floods and their management of water resources.
The meeting was held in the headquarters of the National Meteorological Institute (INMET) and coincided with the celebration of the prestigious institution's 90th birthday.
UNDESA and ESCAP are planning a similar seminar in Bangladesh, India, in 2000.
For more information, please contact:
Manuel B. Dengo, UNDESA
Fax: (1-212) 963-1270
dengo@un.org