| | |
| --- | --- |
| According to the new global report on disaster reduction, prepared by the United Nations Development Program (UNDP), billions of people in more than 100 countries— approximately 75% of the total world population— are exposed periodically to earthquakes, tropical cyclones, floods or droughts. In developing countries, many lives could be saved in the next decades if governments pay more attention to natural disaster reduction. | |
This report is the most comprehensive study ever published on worldwide trends in exposure, risk and vulnerability to natural disasters. A study carried out between 1980 and the year 2000 on the effects of natural disasters worldwide, reveals how disaster-related risks are lower in developed countries than in less developed nations. Development, therefore, is a determining factor in risk levels related to exposure.
The report introduces the Disaster Risk Index (DRI), a new method developed to measure and compare country profiles in the area of exposure, vulnerability and mortality associated with disaster risks, showing clear links between development patterns and existing levels of vulnerability to natural disasters.
The introduction of the report included a number of events held in February and March 2003 in Ecuador, Nicaragua, Colombia, Barbados, Costa Rica, Panama, and Venezuela, as well as in other countries around the world. UN agencies –such as the ISDR, UNICEF, OCHA-PAHO-, and regional institutions and programs -CEPREDENAC, CDERA, CATHALAC, CAPRADE and PreANDINO,- participated in these activities. In Ecuador, the launching of the report for Latin America and the Caribbean region was attended by more than 200 people. The President of Ecuador, Mr. Lucio Gutierrez, was among the participants at this event. Mr. Gutierrez highlighted the importance of having access to this type of information, which allows people to analyze the real social dimension of disasters, and emphasized the need to establish more integrated institutional frameworks to address the complex issues related to disaster risk reduction. In Barbados, the report was presented at the sub-regional level. On that occasion, Ms. Mia Mottley, Vice-Prime Minister of Barbados, stressed the need to focus on development, but with a people-centered approach since the report states that individuals represent a focal point of interaction between disasters and development. In Nicaragua, SINAPRED's director, Mr. Cristóbal Sequeira, and the UNDP Deputy Resident Representative, Mr. Jafet Enríquez, encouraged participants to reflect on the worrisome reality revealed by statistics regarding the danger with which exposed populations have to cope on a daily basis. In Panama, the UNDP Resident Representative, Ms. Elizabeth Fong, pointed out that the report reinforces the idea that disasters are not natural per se but are linked to direct actions taken by human beings, and this is where we should focus our interventions to reduce disaster risk. In Colombia, Mr. Alfredo Witschi-Cestari, UNDP Resident Representative, indicated that "although we cannot stop a natural phenomenon, we can prevent the disaster it may wreak on populations, institutions and infrastructures."
The report highlights that natural disasters cause an average of 184 deaths every day and, between 1980 and 2000, were the cause of over 1.5 million deaths. Mortality rates, however, are infinitely higher in poor countries than in rich nations, although exposure to disasters is about the same. The inevitable conclusion is that what may actually kill people is their level of poverty, not natural forces. In fact, only 11% of people exposed to natural hazards live in poor nations, but more than 53% of the total number of registered deaths occurs in these countries.
According to disaster experts, the number of deaths resulting from natural disasters is only the tip of the iceberg. Economic costs, combined with human consequences, can be devastating for already disadvantaged populations. More than isolated events, disasters are considered successive phenomena, with gradual and accumulative effects on long-term development.
Latin America and the Caribbean are characterized by the recurrence of small- medium and large-scale disasters caused by a number of hazards. In the last thirty years, large-scale disasters have caused losses estimated at more than $50 billion and have affected 30% of the total regional population . It was not until recently that the effects of small and medium-sized disasters on development at large were examined.
The report not only highlights how disasters affect development but also how it can actually increase disaster risks. The document offers numerous examples of initiatives for economic growth and social improvement, which have resulted in new disaster risks. Fast urban growth is one of these examples. Growth in both informal settlements and urban slums, exacerbated by international immigrants and internal displacement from smaller urban settlements or from the country to large cities, has caused burgeoning unstable housing environments. These settlements are usually located in ravines, on steep hillsides, in flood-prone areas, or next to harmful and dangerous industrial plants or transport systems. The report reiterates the fact that during this decade, the largest population growth worldwide will take place in urban areas in Africa, Asia, Latina America and the Caribbean and, in the year 2007, more than half the world population will live in cities.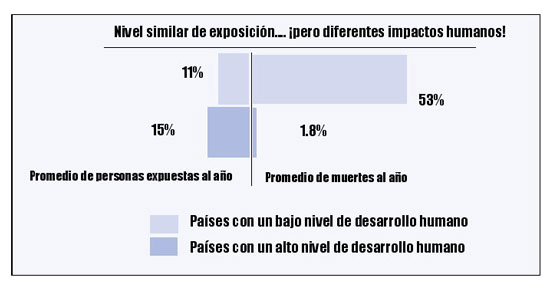 In addition, this document presents various examples of how rural livelihoods, which support 70% of the world's poor population, are threatened by the local repercussions of climate change or environmental degradation. People's ability to survive has been jeopardized by the need to compete in a globalized market that currently values productive specialization and intensification over diversity and sustainability. The report concludes that if disaster risk management and reduction are to be formalized, changes within national development policies and planning are essential. To that end, the report includes a number of recommendations.
The following steps are required to approach disaster risk reduction together with development:
a. Gather basic data related to disaster risk and design planning tools to address the correlation between development policies and disaster risk.
b. Gather and disseminate best practices in the development planning and policies, aimed at reducing disaster risk.
c. Promote political will in order to provide new guidance to the development and risk management sectors.
d. Analyze new development proposals with a view toward ensuring that they will not cause new disaster risks.
e. Carry out corrective actions for reducing existing disaster risk.
For further information, please visit: http://www.undp.org/bcpr/disred/rdr.htm