Guatemala:
First National Meeting on Risk Management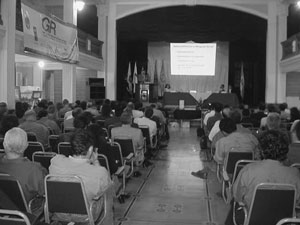 Risk management has been identified as a cross-cutting tool for removing some of the most daunting obstacles to development, particularly in poor countries. Encouraged by the dynamic progress of risk management in recent years, Guatemala's National Coordination Committee for Disaster Reduction (CONRED) and other organizations held the country's first National Meeting on the subject on 17 October.

Organizers included the International Federation of Red Cross and Red Crescent Societies (IFRC), the United Nations Development Programme (UNDP), the German Technical Cooperation Agency (GTZ), the Latin American Faculty of Social Sciences (FLACSO), the Guatemalan Ministry of Planning and San Carlos University.

The Meeting was seen as a strategic opportunity to promote wide-ranging involvement in risk management, providing individual and institutional stakeholders with a forum for the free exchange of ideas, the promotion of current and planned initiatives, and above all the chance to network and build partnerships.

Identifying the key actors in risk management in the public sector (both central and local governments), the private sector, civil society (NGOs, professional guilds, the media), academia, and the international donor community was one of the goals of the Meeting, as was holding an open discussion on all issues related to risk management. Another goal was to promote an analysis of the connection between risk management and socioeconomic development.

Three open round tables were held during the Meeting, featuring prestigious national and international experts. They focused, respectively, on management for risk reduction; local risk management; and risk management and sustainable human development.

A series of lectures dealt with the following topics:
• Current risks
• Financial planning
• Seismic hazards
• Risk management in the health sector
• Climate change and variability
• Educational and training materials
• Demographics and risk
• AIDS
• Environmental degradation
• Insurance
• Hydrometeorological phenomena
• Landslides
• Integrated basin management
• Land-use management
• Food security
• Health services vulnerability
• Gender and disasters

The Meeting was seen as proof of the cross-cutting nature of risk management and the need for it to be sensitive to social priorities. The 211 participants also agreed that risk management can be a successful tool when it is integrated into the development agenda—as long as it is not thwarted by cross-sectoral barriers to communication.
For more information in Spanish, please visit www.segeplan.gob.gt and go to the "Desarrollo Social y Población" page, where you will find a link to "Encuentro Nacional de Gestión de Riesgo".