Radio Drama Series "Times of Hurricanes" Reaching the Most Disaster Prone Communities in Central America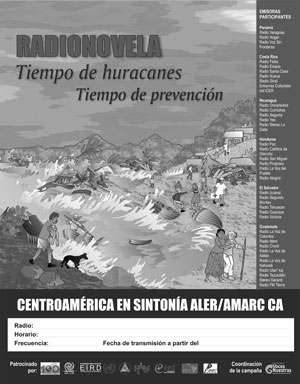 With the objective of producing a medium for disseminating messages on disaster prevention to communities at risk, in an interesting and easily understandable way, the International Strategy for Disaster Reduction (ISDR) the Pan American Health Organization (PAHO) the International Organization for Migration (IOM), and the Coordinating Center for the Prevention of Natural Disasters in Central America, (CEPREDENAC), joined forces to produce a radio drama series, "Tiempo de Huracanes", (Times of Hurricanes).
Conveying an important message on hurricanes and disaster reduction, the drama consists of four different stories which are divided into 20 chapters of 30-minute each which carry the listener through the issues of what could happen before, during and after a natural disaster such as a hurricane or flood. It looks at the consequences of not being prepared and how these negative impacts may be reduced through preparation and awareness. It also analyzes the roles which men and women play in society and what can be done to increase community capacity to prevent negative impacts of disaster situations. In addition to the main topic of disaster manage-ment, stories cover also topics related to health, gender and migration, to mention the most important ones.
Since the beginning of this year (2002), radio drama Times of Hurricanes has been widely publicized and played by radio stations of varying coverage throughout Central America, as well as in South America (Venezuela, Ecuador) and the Caribbean (Dominican Republic) to a lesser degree.
Starting on October 9, in observance of the International Day for Disaster Reduction, and during the following month, Times of Hurricanes was broadcast by 46 radio stations throughout Central America, including Panama, Costa Rica, Nicaragua, El Salvador, Honduras and Guatemala. The campaign was coordinated by a Costa Rican NGO Voces Nuestras (Our Voices), in collaboration with the regional network of local radio stations, "In Tune with Central America" (Centroamerica en Sintonia), and with financial support from ISDR, PAHO and IOM.
The radio drama was aired over a period of 4 weeks, one 30-minute chapter was transmitted every day from Monday to Friday, on different times depending on the radio stations and their primary target audiences. In some communities
In several countries the airing of Times of Hurricanes generated related activities and motivated communities to get actively involved in their community's disaster management organization. Phone calls, letters and contests were also part of the interactive campaign to raise awareness and promote community organization and cooperation, while promotional items such as posters, stickers and T-shirts were used to encourage wider participation.
In Honduras for example, every week-end during the month that the drama was aired, community meetings were held to discuss the latest chapter. In addition, several communities started elaborating community risk maps and emergency plans, to be better prepared before next hurricane season.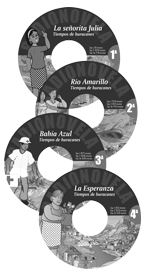 In the San Carlos region of Costa Rica, Time of Hurricanes also reached the younger audience. The drama was included as a compulsory part of many secondary school curriculums, along with supporting activities to analyze the messages being conveyed through the stories and how they relate to the realities of the students.
In Nicaragua, as in other countries, cassettes were reproduced with the original contents of the Tiempo de Huracanes CD-ROMs, so that radio stations not having the technology to air the drama in CD format would not miss out on the opportunity to use this tool for promoting disaster prevention awareness.
The overall response has been positive, both in urban as well as rural areas. Simultaneous events were carried out in various communities throughout the region for analyzing the drama and in relation to the hazards and risk particular to each given area.
According to the survey made by the participating radio stations, the large majority of the Times of Hurricanes audience consisted of women, predominantly caretakers of household, of varying ages. The second most noted audience was that of students of all ages and education levels.
One of the most frequent comments made by listeners in relation to what they came away with from listening to the series were the need to be organized in the community and take preventive measures prior to the occurrence of emergency events, as well as the need to work together and look out for each other. A common feeling was that the situations were similar to what communities went through with Hurricane Mitch in 1998 and how losses could have been reduced had the series been broadcasted before Mitch and had communities been more prepared. Another frequent comment was that the listeners were sorry when the stories ended and wished there had been more in the series.
The production has so far been a huge success in communities throughout the region and requests keep coming in for more copies of the radio series. Almost all the participating radio stations have committed to broadcast Times of Hurricanes again, just at the beginning of the hurricane season in 2003.
For more information, please contact: eird@eird.org
The participating radio stations:
The following radio stations and networks participated actively in the campaign:
Panama: Radio Veraguas, Radio Hogar, Radio Voz Sin Fronteras
Costa Rica: Radio Fides, Radio Emaus, Radio Santa Clara, Radio Nueva, Radio Sinai, Emisoras Culturales del ICER
Nicaragua: Radio Universidad, Radio Cumiches, Radio Segovia, Radio Yes, Radio stereo La Dalia
Honduras: Radio Paz, Radio Catolica de Olancho, Radio San Miguel, Radio Progreso, Radio La Voz del Pueblo, Radio Alegra
Guatemala: Radio La Voz de Atitlan, Radio La Voz de Colomba, Radio Mam, Radio Chorti, Radio La Voz de Nahuala, Radio Utan'kaj, Radio Tezulutlan, Stereo Gerardi, Radio FM Tierra
El Salvador :Radio Izcanal, Radio Segundo Montes, Radio Guazapa, Radio Victoria
In Spotlight: Radio Progreso, Honduras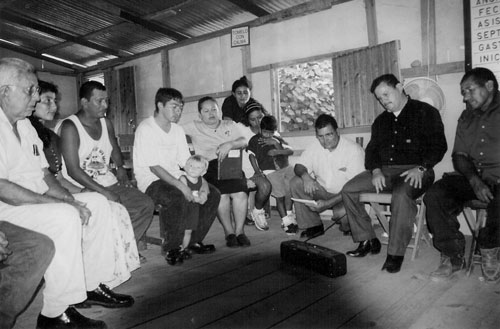 Radio Progreso was one of the 46 radio stations that began broadcasting the radio drama on 9th October, the International Day for Disaster Reduction. Every Saturday afternoon, the residents of La Guacamaya, a small township in northeastern Honduras gathered in community buildings, neighbour's homes or at the football field, anywhere where they could listen to the latest chapter of the radio drama Times of Hurricanes.
La Guacamaya is located between two creeks that were completely harmless before Hurricane Mithc struck Central America in 1998. After several days of rain, they overflowed causing landslides that destroyed over 200 of the town's 300 homes. Luckily the mud and other debris came down slowly giving the residents time to flee .After hurricane Mitch, the residents formed groups to tackle immediate basic needs:food, shelter, and drinking water.
When the audience was asked their opinion about the Times of Hurricanes, and what was the main message, following responses were very common:
"It is really pity that this program was not broadcast before Hurricane Mitch, I would have known much better what to do and how to protect my family.."
"If I had listened to this program before Hurricane Mitch hit out community, I would have not suffered so much".
"Times of Hurricanes teaches us to be better organized, to move forward and be more prepared.. before disaster strikes"