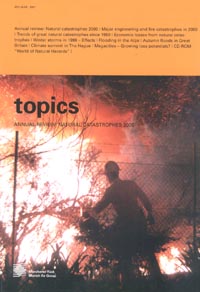 Topics Annual
Review Natural Catastrophes 2000 Munich Re Group
Annual Review Natural Catastrophes 2000; Major engineering and fire catastrophes in 2000; Trends of great natural catastrophes sice 1950; Economic losses from natural catastrophes; Winter storms in 1999-Effects; Flooding in the Alps; Autumn floods in Great Britain; Climate summit in The Hague; Megacities-Growing loss potentials?; CD-ROM "World of Natural Hazards".



For more information contact:
Dr. Gerhard Berz, Thomas Loster and Angelika Wirtz
Tel (49(0)89) 3891-5291
Spanish (49(0)89) 302-02911
English (49(0)89) 302-02909
Fax (49(0)89) 3891-5696
www.munichre.com
---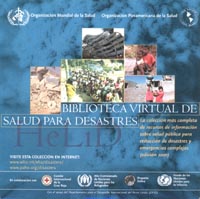 Virtual Library on
Disaster and Health

The Global Virtual Library of Essential Information Resources on Public Health for Disasters and Complex Emergencies (2001 Edition). This production was carried out in collaboration with International Committee of the Red Cross, United Nations High Commissioner for Refugees, Sphere Project, United Nations Children´s Fund and with support from the Department for International Development of the U.K. (DFID).
Also on the Internet at:
www.paho.org/disasters
---


CD-ROM Seismic Risk: Applications for Schools
Education for Prevention Program National Civil Protection School, Spain
remer@proteccioncivil.org
www.proteccioncivil.org