Healthy Housing for the Reconstruction of El Salvador
Jorge J. Jenkins, Environmental Health Advisor, PAHO El Salvador
jjenkins@els.ops-oms.org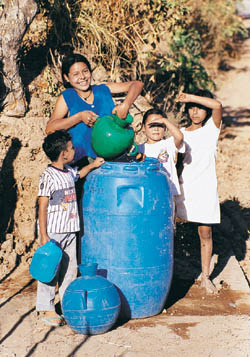 The earthquakes of January and February 2001 in El Salvador destroyed 149,528 homes and damaged another 185,338, mainly in rural areas. Most of the damage was due to the fact that many homes had been built in areas prone to landslides, and construction materials and procedures were not earthquake-resistant. Fortunately, the earthquakes happened in the morning, killing 1,159 and injuring 8,122—moderate figures, when compared with other earthquakes in the region.
In the task of reconstruction after the disaster, the choice of housing model is of great importance. The Pan-American Health Organization (PAHO) has developed the Healthy Home concept (VIVISAL, in its Spanish acronym) and built two prototypes in the municipality of Zaragoza, in La Libertad department (province). The prototypes have been accepted by the government of El Salvador and—more to the point—by the homeless peasants themselves as the right model for housing reconstruction in the rural sector. Some of the characteristics of the Healthy Home are the following:
It is low-cost.
Its structure is resistant to earthquakes.
It can be rapidly built, and the beneficiaries can help with their labor.
It is located in low-vulnerability areas.
It incorporates as an essential component a 9 m2 sanitary module that includes the shower, the latrine, a washbasin/kitchen sink with its own water deposit, a manually dug well, a 5,000 liter storage tank, a manual water pump, a waste disposal bin, a small cooker, and a pantry. The windows have mosquito netting to keep flies and mosquitoes out of the home.
There are separate bedrooms for the parents, the boys, and the girls.
An integral part of the VIVISAL concept is environmental quality, with grassy areas, family vegetable plots, the use of rain water, and the non-chemical control of vectors. A sanitary education program is part of the initiative. The Healthy Home concept also emphasizes gender equity by developing alternatives that free women and girls from the need to carry water, dispose of waste, and chop firewood. The time that is thus made available can be used for education or cottage-industry activities.
This new type of housing is an opportunity to improve permanently the living conditions of rural families by creating a safe and wholesome environment, promoting healthy behavior, and encouraging families to participate in the building and maintenance of their own homes.