Promoting a Culture of Disaster Prevention
Rosa del Carmen Aguilar Borjas, World Vision Honduras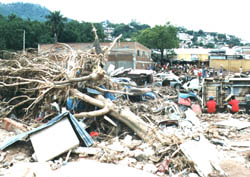 Hurricane Mitch struck Honduras with indescribable fury during the last week of October 1998, leaving in its wake 5,657 deaths and 8,058 disappearances. Almost 1.5 million people were affected. According to the Economic Commission for Latin America and the Caribbean (ECLAC), damage to the country amounted to US$3.8 billion.
Never before had the Central American nation faced such devastation. The unmistakable lack of preparedness displayed by the population during the emergency response phase made it clear that there was a need to launch concrete actions to promote a culture of disaster prevention.
"As an organization, one of the lessons we learned after Mitch was that if we'd had the skills, the knowledge, an established structure and a plan, we would have been more effective during the first stages of disaster response," says Ralph Merriam of World Vision Honduras, a humanitarian organization that provides financial and technical support to 26 Area Development Projects (ADPs) in 11 of the 18 departments (provinces) of the country. They involve sustainable development initiatives, emergency response and rehabilitation, Christian proselytizing, and programs to advance justice in Honduras.
Towards an EPR Strategy
In 1999, World Vision Honduras took its first steps towards an Emergency Prevention and Rehabilitation (EPR) strategy. Its mission was to promote a culture of natural disaster prevention and consolidate a national vulnerability reduction and emergency preparedness and response system.
The first stage of World Vision Honduras's EPR strategy has already been completed. Merriam describes it as capacity building at all levels of the organization for the integration, across all its programs, of risk and vulnerability assessment and emergency mitigation and preparedness activities.
These activities include establishing organizational structures and response teams, as well as developing contingency plans involving key supplies and contacts, all based on the procedures of the Honduran Permanent Contingency Commission (COPECO) and World Vision International.
During the first phase, efforts concentrated on organizing disaster response teams and providing them with a wide variety of skills, allowing each of the Area Development Programs to respond autonomously to a localized emergency while relying on the national team in the event of more serious emergencies.
"The idea is that by 30 September 2002, seven of the ADPs that were most affected by Mitch in the northern and southern regions of the country will be completely trained and organized to respond effectively and efficiently," says Merriam.
By 2003, all the response teams will be trained in risk and resource mapping, preparedness and pre-positioning, conceptualization of disaster management, identification of available human, infrastructural and financial resources, organization and assignment of responsibilities through emergency committees, communications, damage assessment and needs analysis, rules and procedures of World Vision International, and the development of contingency plans.
The EPR strategy will be strengthened by the links maintained by World Vision Honduras with national and international agencies, both public and private, such as COPECO, the Department of Natural Resources, the Office for Foreign Disaster Assistance of the United States Agency for International Development (OFDA-USAID), the European Union, and the support of World Vision International offices around the world.
"We are already obtaining some benefits, such as the training contents of COPECO and the financial assistance of OFDA and World Vision US and Australia," says Merriam.
All actions ultimately involve promoting a culture of disaster prevention. As noted by the Emergency Response Plan for 2001, they encourage an integral response to the needs of those who are most vulnerable, without discrimination on the basis of sex, race, religion or political affiliation. The primary commitment, however, is to the communities World Vision Honduras is already working with.
The group also strives to provide spiritual and psychological solace to disaster victims and intercede for peace and justice in those situations that call for it.
Merriam sees the EPR strategy as a significant component of the sustainable development initiatives promoted by World Vision Honduras. "Any NGO that is talking of sustainable development processes and does not incorporate a disaster preparedness, mitigation and response component into their long-term development strategy is not really implementing an integral development strategy," he says.
For more information: Visión Mundial Honduras
Tel (504) 236-7024
Fax (504) 236-7108
ralph_merricam@wvi.org,
rosa_aguilar@wvi.org