MImproving Access to Health and Disaster Information
in Honduras and Nicaragua
A project report
By John C. Scott, CPSC and consultant NLM, Ricardo Perez, PAHO, Stacey J. Arnesen, NLM
Abstract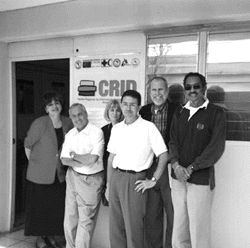 Hurricane Mitch which hit Central America in the fall of 1998 left Honduras and Nicaragua worst. Honduran casualties numbered more than 5,500 dead and over 8,000 missing. More than 2,500 died in Nicaragua and nearly 900 were reported missing. In both cases, major economic and social lifelines were crippled, including health facilities and communications services. Within a year of this tragedy the United States' National Library of Medicine (NLM) with the Pan American Health Organization began considering a special project they might make together to support the rebuilding and improvement of local and national health information infrastructure in Honduras and Nicaragua. The result of this consultation was the decision by NLM in September to award a contract to the Costa Rica-based non-governmental foundation FundaCRID to work with key "partners" in Honduras and Nicaragua to develop an approach to collecting and making available health information related to disasters. The principal technical partner for NLM will be CRID, the Regional Disaster Information Center located in Costa Rica. In addition to funding the initiative, NLM — principally through its Specialized Information Services division — will be a partner in the process and will provide training and technical support. In this effort they will be supported by the Center for Public Service Communications. The Pan American Health Organization/World Health Organization which is already one of CRID's major partners, is also deeply committed to supporting the project and will work with both NLM and CRID to plan and implement the project along with the International Strategy for Disaster Reduction, that is coordinating CRID.


Background
The countries of Latin America and the Caribbean as a region vie for the unfortunate distinction of having the greatest exposure to disasters of all regions in the world. Between 1971 and 1995, 1,824 disasters were recorded in the Americas, of which 1,246 were produced from natural phenomena, and 578 the result of unnatural causes. In 1998, Hurricane Mitch caused severe damage in Central America, especially in Honduras and Nicaragua, the countries selected as the primary beneficiaries of the CRID/NLM project.
Natural phenomena such as hurricane Mitch clearly cause enormous suffering. The human cost is in terms of the number of deaths and injured. There is also serious deprivation in terms of health care and related services such as food supply, drinking water, housing, and environmental sanitation. During the aforementioned twenty-five year period, the annual average mortality rate in the region was 8,956, while 3,781,314 were injured or otherwise affected.1
Mitch made apparent, again, the need for a multisectoral approach to disaster reduction. Coordinating an approach to disaster reduction that includes all relevant sectors requires timely availability of reliable information from many and varied sources. The ability to collect, manage, disseminate and exchange information is essential and steps must be taken to ensure the high level capacity of human and technological infrastructure. For example, information is needed in the areas of detection and description of hazards, the design of early warning and response systems, community education, health management in disaster situations, coordination of the agencies involved in disaster management activities, and damage assessment required to bring about rehabilitation in various sectors.
The same is required for humanitarian assistance operations deployed around the world, since efficient information management and advances in telecommunications are particularly important dimensions of relief operations and the decisions taken by donors.
The demand for information has risen among a growing number of disaster preparedness and prevention planners as the availability of information on health issues related to disasters has increased in volume and improved in quality. Information produced about health issues in disasters in the Latin American and Caribbean region, in particular, has seen important advances in terms of usefulness in preparedness planning, strategic decision-making and operational coordination of humanitarian emergencies. This is in large part, due to the attention that has been placed on information collection and management throughout the last decade by such groups as PAHO, the United Nations International Decade for Natural Disaster Reduction (now the International Strategy for Disaster Reduction), the International Federation of Red Cross and Red Crescent Societies (IFRC), and the Coordination Center for Natural Disaster Prevention in Central America (CEPREDENAC). These institutions and others have called to attention, the fact that many of the "lessons learned" during disasters do not find their way into the mainstream of health and medical literature. This is because the experience of many health professionals engaged in disaster work frequently goes unpublished or consists of needs assessments by NGOs or agencies of the UN System which often have limited circulation; presentations made at conferences, of which there is little record; or in academic or other training courses, for which there are often no recorded curricula.
It is also the case that because of inadequate access to information technology, lack of training in how to find and manage information and lack of awareness of what information is available communities and local authorities are frequently uninformed about health issues important to their well being.
In an effort to address these issues, NLM has developed this project with PAHO and ISDR and has awarded a contract to FundaCRID, a non-governmental foundation, whose mission is "to promote a culture of disaster prevention in Latin America and the Caribbean" in support to the Regional Disaster Information Center CRID. To accomplish its mission, CRID develops and supports activities that have a direct effect on the improvement of scientific and technical information related to disaster management.


Project Objectives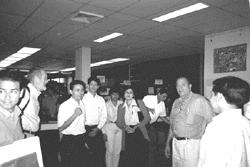 The broad objective of this partnership is to contribute to disaster reduction in the Region. Not only will this positively affect health by providing access to timely and accurate health information, it will also, over time, contribute to economic growth and social development.

This initiative is based chiefly on the use of Internet as a means of support and a communications channel. The Internet is an excellent medium for achieving cooperation and exchange. It enables wide access to online databases, full-text documents, professional contacts, and news. However, many institutions and segments of the population do not have Internet access, and priority will be given to expanding and improving connectivity to ensure better and broader dissemination of the available health information.
With a view to sustaining these activities in the future, the project has selected university libraries in these two countries as priority centers to gather and disseminate technical and scientific disaster and health information. In addition to the CRID center in Costa Rica, the four partner sites in Honduras and Nicaragua are:
The Medical School of the at the Autonomous National University of Honduras (UNAH), in Tegucigalpa, Honduras;
The Centro Universitario Region Norte (CURN), the UNAH campus at San Pedro Sula, Honduras;
Centro de Investigacion y Estudios de la Salud (CIES), the school of public health of the Autonomous National University of Nicaragua (UNAN), in Managua, Nicaragua; and
The Medical School of UNAN in Leon, Nicaragua
These centers will be strengthened in three areas:
Internet connectivity and basic computer resources
Training, carried out at both the NLM and at the CRID in Costa Rica
The creation of special disaster and health information services (full-text documents, databases, training material, etc.)
Because these information services will be provided and accessed through the Internet, there will be other important benefits for the two target countries and others:
Access to important NLM information resources (for example on toxicology and environmental health) will be promoted and facilitated through the project's website
Training material will be published in Spanish on information management and its use, adapted to the realities and needs of users in Central America.
All documents and information sources gathered and selected under this project will be available online and free of charge. For example, a significant number of the existing documents at CRID (presently available only in hard copy) will available on the Internet, benefiting not only Honduras and Nicaragua, but also all interested countries.
The project partners expect that broad distribution of existing information on disaster management in Honduras and Nicaragua will be achieved through the execution of these activities.
Who will benefit from the project?
Health sector managers and health professionals responsible for or involved in disaster preparedness and operational response, such as epidemiologists, primary care physicians, medical specialists, sanitary engineers, nurses, fire departments, etc.
Organizations involved in disaster management and prevention in Honduras and Nicaragua that will obtain timely information through CRID
Centers operating in this area at the national or local level, whose staff will be trained and supported to function as reference points for the collection and management of disaster health information.
Universities and the general public interested in disaster information. The information provided by and through CRID and NLM will be helpful also for the design and evaluation of local, national and subregional disaster prevention and management policies and actions that aim to reduce vulnerability. The experience and benefits of this project will be applicable to other areas of the region and in other areas of the world.

About the CRID, NLM and PAHO partnership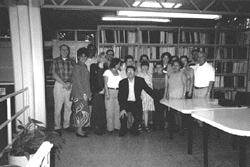 During this project the dissemination and distribution of information will be channeled through Centro Regional de Información Sobre Desastres (CRID), located in San Jose, Costa Rica, which was created for this purpose in May 1997. Its organization was based on the structure and experiences of the Disaster Documentation Center, which was initiated by PAHO/WHO in 1990. CRID is convened by ISDR (before IDNDR).
CRID's mission is to promote the development of a prevention culture in the Latin American and Caribbean countries, through the compilation and dissemination of disaster-related information, and the promotion of co-operative efforts to improve risk management in the Region. It is located in the facilities of the National Emergency Commission (CNE) of Costa Rica and today has six partners2.
Since its creation, CRID has collected important technical information on emergencies and disasters available in Latin America and the Caribbean, and has made great efforts in disseminating and distributing this information so that it is accessible to the thousands of interested users in the Region. Taking advantage of, and strengthening the existing CRID infrastructure and experience to support Honduras' and Nicaragua's libraries and information centers would avoid duplication of efforts, save resources and indirectly benefit the other countries of Latin America and the Caribbean.
The National Library of Medicine (NLM), on the campus of the National Institutes of Health in Bethesda, Maryland, is the world's largest medical library. The Library collects materials in all areas of biomedicine and health care, as well as works on biomedical aspects of technology, the humanities, and the physical, life, and social sciences. The Specialized Information Services (SIS) Division of the National Library of Medicine (NLM) is responsible for information coverage and services for several areas, including toxicology and environmental health, AIDS, and outreach to special populations.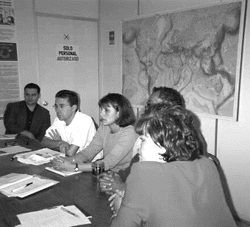 In addition to the immediate justification supporting the rebuilding of the health information infrastructures of the two countries hardest hit by hurricane Mitch, NLM will be a partner in the process, and expects to benefit from the partnership in a number of ways: increasing the scope of mission-related services by developing models for comprehensive handling of non-traditional or unpublished literature on the health and medical aspects of disasters; working with PAHO and CRID to adapt some of its information "products and services" to be more useful to Spanish-speakers in the United States and in other countries of the world; and by exploring effective means of collecting and exchanging medical and other health information in geographically isolated and disaster affected environments. NLM and its partners expect that lessons learned from involvement in this project will also be valuable in the United Sates in disaster situations and in providing similar services to rural and other underserved populations.
For more than 20 years, the Pan American Health Organization's Emergency Preparedness and Disaster Relief Coordination Program has contributed to improving access to technical and scientific information on disasters in all the countries of the Region. PAHO is represented in each country of the Region, and its technical staff collaborates closely with national authorities in technical cooperation activities. This project will greatly advance PAHO's ongoing efforts to strengthen health and disaster information management.

For additional information contact:
CRID,
Apdo. 3745-1000 San Jose, Costa Rica.
Tel: (506) 296-3952,
Fax: (506) 231-5973,
crid@crid.or.cr
www.crid.or.cr
Stacey Arnesen, Project Manager, National Library of Medicine Division of Specialized Information Services,
Lister Hill Building, Bethesda, Maryland 20894,
ARNESES@mail.nlm.nih.gov
---
Notes
1 International Federation for Red Cross and Red Crescent Societies, World Disaster Report, 1997, Oxford: 1998.

2 Pan American Health Organization - Regional Office of the World Health Organization (PAHO/WHO); International Strategy for Disaster Reduction (ISDR/EIRD), that has succeeded the International Decade for Natural Disaster Reduction (IDNDR); Costa Rica National Risk Prevention and Emergency Commission (CNE); International Federation of Red Cross and Red Crescent Societies (IFRC); Coordination Center for Natural Disaster Prevention in Central America (CEPREDENAC) and the Regional Office of Doctors Without Borders (MSF).