News from CRID – the Regional Disaster Information Center for Latin America and the Caribbean

The Controlled Disasters Vocabulary (cvd) Initiative
Lilliana González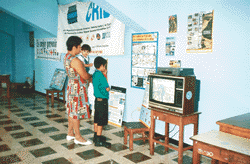 Disaster prevention and response is an interdisciplinary field. It brings together different areas of knowledge that evolve and provide feedback to each other in continual multiple loops of dynamic information exchange. Advances in these subjects are reflected in the terminology employed by researchers, professionals, technicians, scientists, and social actors. The terms used in one discipline sometimes mean something entirely different in another discipline. In the Latin American disaster literature, one can follow the evolution of concepts and the emergence of new ones that can be more specific regarding actions, procedures, and sometimes even new perspectives.
Since the terminology is far from uniform, it is sometimes difficult to compile information on a given subject. Some terms are no longer in use; others have evolved and convey more subtle or richer nuances. One example is the phrase risk management.
Hence the value of controlled vocabularies. Their purpose is not to impose the use of a given terminology, or limit the inclusion of new concepts. Rather, they provide a collection of organized terms that help us not only to describe the thematic contents of a given paper, but also to retrieve the information in a more effective way. This is the case of the recently published Controlled Vocabulary on Disasters.
Controlled vocabularies are an information analysis and retrieval tool. They are used to reflect, through the use of keywords, the contents of print, digital, audiovisual, cartographic, and Web material, on matters that can range from the delivery of drugs and other emergency supplies, to vulnerability assessment techniques.
Contrary to what some believe, controlled vocabularies are neither glossaries nor dictionaries. Their structure is more complex. Links between related terms within a hierarchical or categorical structure, alphabetical lists, or visual information maps, and above all their digital representation, enable multiple cross-references and extremely flexible data searches. These vocabularies are dynamic. Part of their value arises from their ongoing, permanent changes and updates. As different disciplines evolve and incorporate new concepts, techniques, and trends, these are picked up by the people entrusted with maintaining controlled vocabularies up to date.
Historically, controlled vocabularies have been used in libraries and documentation centers. Nowadays, they are indispensable in contents and information analysis centers for private or public use. They are required to describe the contents of products, processes, techniques, and specialties.
The Latin American and Caribbean Center for Health Sciences Information (BIREME) prefers to employ the phrase "structured vocabularies". They are defined as "collections of terms organized according to a methodology that makes it possible to specify the relationship between concepts in order to facilitate access to information." According to BIREME, they are used as a sort of filter that takes into account both the language employed by the author and the terminology that has been approved by consensus in any given discipline. They can also be seen as virtual research assistants, in that they help the user to refine, expand, or enrich his or her searches, providing more objective and abundant data for additional research and analysis.
The Controlled Vocabulary On Disasters
The Controlled Vocabulary On Disasters is a tool for contents analysis and information retrieval that can also be used as a work of reference on disaster terminology. It was developed by the Regional Disaster Information Center for Latin America and the Caribbean (CRID), with the collaboration of BIREME.
The terms were selected from a great variety of bibliographical sources, as well as the input from professionals in disaster-related fields. It was submitted for review during a meeting held within the more general framework of the International Strategy for Disaster Reduction (ISDR) conference held in San José, Costa Rica, in August 1999. Participants included experts in the field and information officials from Central America, the Caribbean islands, and Venezuela.
The Controlled Vocabulary On Disasters will be part of the trilingual Health Science Descriptor structured vocabulary developed by BIREME. It will be used in more than 600 information departments and units that belong to the Latin American and Caribbean Health Sciences Information System, in 37 countries in the region. The information units belonging to the ISDR have already adopted this vocabulary as their standard.
Structure
Online access to the vocabulary, in HTML and Adobe Acrobat PDF format, makes it possible for users to look up terms alphabetically, by conceptual proximity, or hierarchically. It can be examined as a graphic representation (a "tree") of the three main categories, as a hierarchy of terms where one may explore higher or lower levels to find either more general or more specific terms, and alphabetically, in English, Spanish, and eventually Portuguese.
Usefulness
The terminology included in the Controlled Vocabulary On Disasters has different applications. It can be used to analyze the bibliographic information included in DESASTRES and other databases. It can be used to retrieve information both online and in stand-alone personal computers or local area networks. Other uses include the production of bibliographic products, highly pertinent information systems, and indexes for Web search engines, including the ones used in the CRID and BIREME Web sites. It can also be used to train the staff of information centers.
Where can you get it?
The Vocabulary can be found online at the CRID Web site, www.crid.or.cr, on the Regional Disaster Information System page. It will also be made available on the Web at www.bireme.br, in Portuguese as well as Spanish and English, as a subset of their health sector controlled vocabulary. The quarterly LILACS CD-ROM, published by BIREME, will also carry the information.
You can help
The Vocabulary can only be updated effectively if everyone lends a hand. Suggestions for the inclusion of new terms, notes on specific uses, or any other remarks, should be addressed to the Regional Disaster Information Center for Latin America and the Caribbean (CRID), at the following email address: lilliana.gonzalez@crid.or.cr. While we appreciate your help, we ask that you make things easier by applying the following guidelines. Essentially, you need to fill out the Terms Inclusion and Update Form, which is available at the CRID Web site. The terms must meet the following criteria:
They must have been cited in at least three documents. You need to provide full bibliographic references for the citations.
They must include a definition of each new term, as well as the bibliographic citation of the source of the definition.
Related synonyms and terms must be included.
The term must be assigned to a thematic category. (For additional information about this, visit www.bireme.br.)
If the term is in Spanish or English, the translation into the other language must be included.
If the term is in Portuguese or French, please include at least its English translation.
This product can be a significant contribution to disaster information management, but only if we all cooperate.
For more information, please contact:
Regional Disaster Information Center for Latin America and the Caribbean (CRID)
Apdo. 3745-1000 San José, Costa Rica
Tel: (506) 296-3952
Fax: (506) 231-5973
Email crid@crid.or.cr
www.crid.or.cr
www.crid.desastres.net