Disasters and Emergencies:
Prevention, Preparedness and Mitigation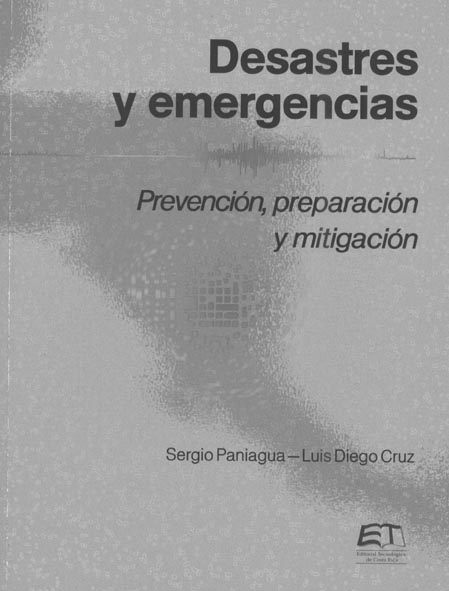 by Sergio Paniagua and Luis Diego Cruz
EThis Spanish language book aims to meet civil society's urgent need for up-to-date, clear, operational information on risk management and training. It invites readers to participate responsibly in emergency and disaster prevention and mitigation.
A description of the major natural and socio-natural hazards prevalent in Central America is included, as are considerations on the most effective kinds of interventions that can be carried out during a crisis. Unusually, attention is paid to the need for psychological care in order to safeguard the mental health of the population in the midst of a disaster.
Standards and procedures on how to store food and provisions, prepare an emergency kit, and develop family and community emergency plans are all presented in the book, as are a glossary of disaster-related terminology and samples of risk maps.
Costa Rica's Editorial Tecnológica—the publishing arm of the Costa Rican Institute of Technology—is pleased to present this new book, which is aimed primarily at the Central American community but may prove useful in encouraging disaster prevention, preparedness and mitigation throughout the Spanish-speaking world.

Editorial Tecnológica de Costa Rica
Instituto Tecnológico de Costa Rica
Apdo. 159-7050, Cartago, Costa Rica
+506 550-2297, fax +506 552-5354
editec@itcr.ac.cr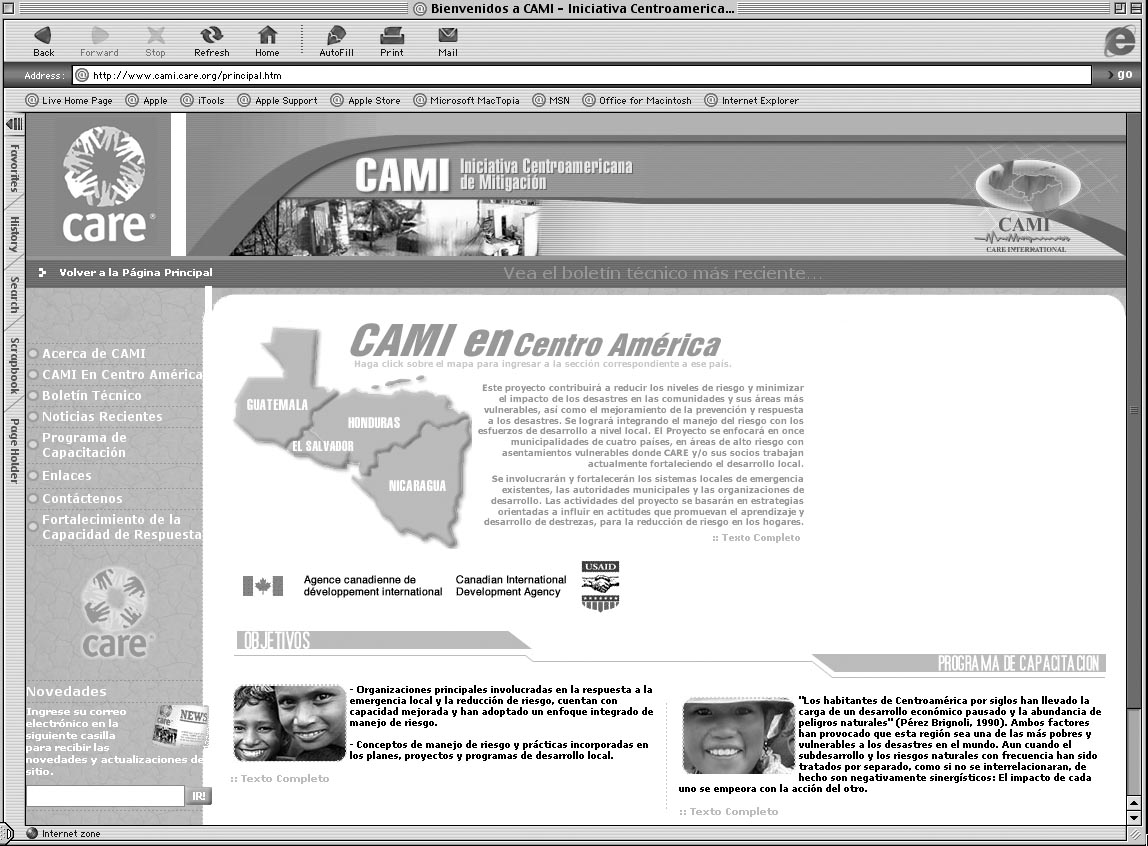 CAMI web site now available
The Central American Mitigation Initiative (CAMI) Web site is now available at www.cami.care.org. The site provides extensive information on this regional project by CARE International, which is funded by the Office for Foreign Disaster Assistance of the United States Agency for International Development (OFDA/USAID) and the Canadian International Development Agency (CIDA).
Information can be found on the project's activities in each of the participating countries (Guatemala, Honduras, El Salvador and Nicaragua). The training programme's modules are also available online, as is a technical bulletin and recent news features. By subscribing at the site, the latter can also be received by email

For more information please visit www.cami.care.org, call +504 235-5055, 235-5070 x 75, send a fax to +504 232-0913, or write to CAMI Ave. República de Costa Rica, subida a Lomas del Mayab, Diagonal LA CURACAO Apdo. Postal 729, Tegucigalpa,
M.D.C., Honduras, C.A.