Meeting on Climate-Related Variability, Change, Risk, and Management


The National Science Foundation of the United States, in association with the Inter-American Institute for Global Change Research (IAI), the secretariat of the United Nations International Strategy for Disaster Reduction, the Americas (UN/ISDR); the Water Center for the Humid Tropics of Latin America and the Caribbean (CATHALAC), the Regional Disaster Information Center for Latin America and the Caribbean (CRID), Panama's National Authority for the Environment (ANAM), and the Secretariat of the Latin American Faculty of Social Sciences (FLACSO) organized a "Meeting on Climate Variability, Change, Risk and Management," on November 19-23, 2006, and a forum titled "Science and Policies in Managing Climate-Related Risks" on November 24, 2006. Both of these meetings took place in Panama City.
The gathering brought together a significant number of Latin American and Caribbean scientists together with representatives of national and regional organizations, in order to explore possible answers to a series of questions related primarily to existing communication barriers between the technical and political aspects of this issue, the inclusion of climate-related risk management in government programs, and the integration of those who produce scientific knowledge with users, beneficiaries, and decision-makers, generating opportunities to build regional networks on this issue.
After working for one week on scientific aspects, the results of the meeting were presented in a forum to foster dialogue and interaction between the scientific community and decision-makers, and to find ways to make a better use of scientific information in policy-making.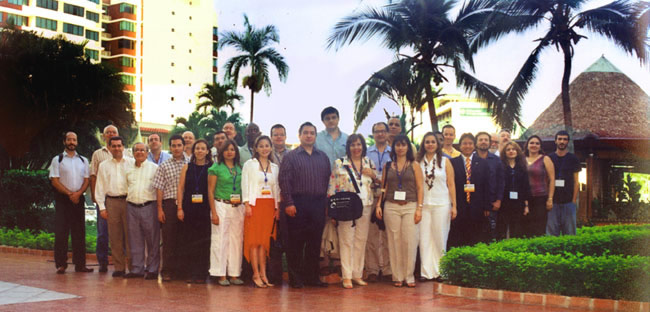 Phooto: M. Nieto
Participants from technical and political fields, NGOs, and international financial institutions from all over Latin America and the Caribbean took part in both activities. Each day, the methodology applied included expert talks, discussions on topics previously established by the Technical Committee, problem-solving and team-building activities, and working groups that were each assigned different content areas according to the focus of the meeting.
Other working groups were also established to identify problems and potential solutions, describe opportunities and synergies, develop ideas for joint projects with multi-functional objectives that help address climate-related risks, and adopt the United Nations Millennium Development Goals and the Hyogo Framework for Action as guiding documents. All these proposals will be studied by the IAI for their inclusion in the formulation of future projects.
The methodology applied and all related information was made available on a website design specifically for these events. The website also includes documentation of the CRN1 and CRN2 projects developed by IAI, the list of participants and speakers, documents and related links.
The forum and meeting reports will be published in the near future in both English and Spanish, also available at the following link: http://www.crid.or.cr/encuentroyforoengestiondelriesgoasociadoalclima/index.shtml
For further information please contact:
Diana Barbosa: diana.barbosa@crid.or.cr
CRID