El Salvador Villa Centenario PAHO project: recovering after a tragedy

The earthquakes that occurred in El Salvador in January and February 2001 killed some 1.259 people, injured 8,964 left 1.6 million homeless and caused approximately $1,603 million in economic losses.
This seismic activity mainly affected El Salvador's rural sector, where most of the 186,000 houses damaged and the 153,000 destroyed were located. With regards to the overall impact on housing, these earthquakes affected almost 24% of all units in the country, which worsened the existing situation in terms of housing deficit, which currently amounts to 551,604 units. Most houses affected were of poor quality, with their floors, walls and roofs constructed with inefficient building techniques and inadequate materials. In addition, these houses generally lacked basic services such as drinking water, power and sanitary disposal of garbage and wastes. In 1999, the housing deficit was estimated to be some 44,377 housing units.
In this context, the construction of new units, especially for rural inhabitants, represented one of the primary tasks for recovery after the e arthquakes. The Pan-American Health Organization (PAHO/WHO), therefore, considered a strategic contribution: a new design for reconstruction that would meet the minimum standards to ensure the health and well-being of these units' occupants. In other words, these new houses would help overcome the traditional problem of lack of building quality in rural areas by being decent and affordable.
In this manner, within a few months after the earthquakes, PAHO suggested the implementation of the model named VIVISAL-PAHO. Two prototypes were built at a housing fair held in the Department of La Libertad, organized by the Vice-Minister of Housing. The fair was organized in order to provide information to different companies, cooperating agencies, potential donors and the public at large about both the advantages and disadvantages of the models proposed. In order to avoid spreading diseases, VIVISAL incorporated a sanitary module which included drinking water, water storage, sinks, latrines, wastewater treatment, and sanitary disposal of garbage and wastes. As a result of these features, this model was considered to be the most appropriate design for r ebuilding houses in rural El Salvador. In addition, these housing units, measuring some 41m2, included a social area, a kitchen with an energy-saving stove, a bathroom, and three small bedrooms: one for the parents and two others for each of the children.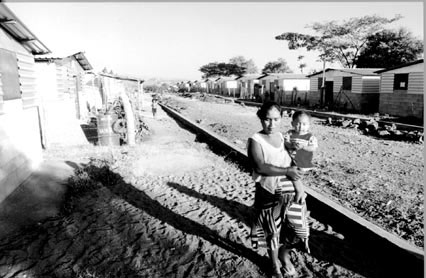 In order to build a small village for 100 families who were affected by these earthquakes, a partnership was established between the Vice-Ministry, the Mayor's Office of Acajutla, the Ministry of Health and PAHO. This alliance was endorsed by the Vice-Minister of Housing. Funds for the village were provided by the governments of Canada, Sweden, Italy and the Bahamas, as well as from the Marist Brothers. A total of 60 housing units were built by PAHO and the rest by the Marist congregation. The project was titled "Villa Centenario-OPS" [Centennial-PAHO Village] to honor 100 years of public health work done by PAHO in the Americas.
Villa Centenario is located in the Suncita district, Municipality of Acajutla, Department of Sonsonate. The village was inaugurated on April 18, 2002 by the President of the Republic, Mr. Francisco Flores, some cabinet ministers and Dr. Mirta Roses, the current director of PAHO. The village is surrounded by two rivers and has some 500 inhabitants. It includes a park for children, a community center titled "Salud Para Todos" [Health for All], a nixtamal mill, a bakery ran by a women's cooperative, a small health center, and hydroponic gardens. The village provides basic services for its inhabitants, including drinking water, power and garbage collection.
One of the main lessons learned from building a human settlement after a disaster has been that the main actors are, and must be, the inhabitants of the settlement. Housing construction only represents half of the solution for fostering healthy housing and communities. The most important element is the organization of people themselves and their commitment, so that an attitude change is fostered. This will also result in a furtherance of self-health care.
For all the above mentioned reasons, this village represents a number of new experiences that must be publicized, not only to avoid making the same mistakes but also to serve as a reference of successful stories for similar future undertakings.