PreventionWeb – a global information platform on Disaster Risk Reduction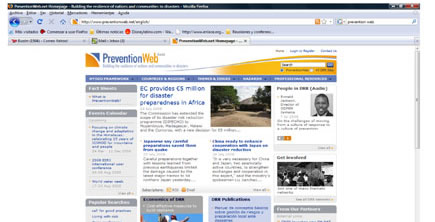 The UNISDR secretariat has launched PreventionWeb, an internet-based information portal on Disaster Risk Reduction. PreventionWeb provides an online forum for collaboration, knowledge sharing and exchange of experiences on Disaster Risk Reduction for policy makers, practitioners and the public at large.
Its primary purpose is to facilitate the work of professionals in Disaster Risk Reduction and promote an understanding of the subject to non-specialists. The site is updated daily, and contains news, initiatives, an event calendar, online discussions, contact directories, policy and reference documents, training events, jobs, terminology, country profiles, fact sheets as well as audio and video content.
We welcome contributions from partners working with Disaster Risk Reduction in the region of the Americas. You can upload documents, post events, initiatives and other Disaster Risk Reduction related content.
For more information please visit: http://www.preventionweb.net