Disaster Risk Management Education in Central America: Historical Reference Information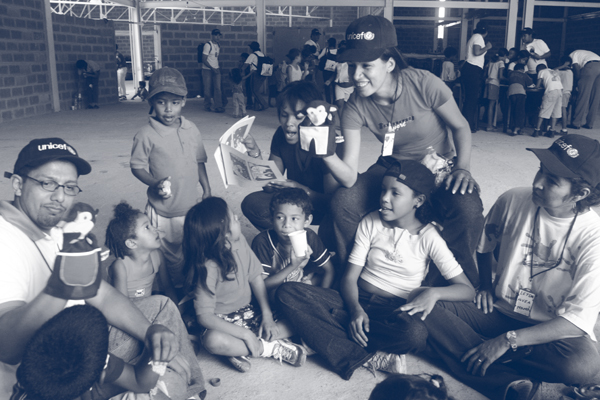 Photo: © UNICEF
A discussion of risk reduction and disaster in Central America should start with the Popol Vuh, the sacred book of the Quiché Maya, who spread throughout Mesoamerica, leaving their cultural stamp on the countries of the region. The Popol Vuh relates experiences with disasters and especially with planning to reduce risk.
In it, the hero twins Hunahpu and Xbalanque use a well-planned strategy to defeat Cabrakán, the spirit that "causes the mountains to tremble and quake" (Saravia E. Albertina, 1992), in reference to what we now know as tremors or earthquakes.
From more recent documentation, we know that when the Ministries of Education in Central American countries have faced the likelihood of adverse events such as hurricanes, bombings and armed attacks, and epidemics, among others, or during periods of high seismic activity, for example, they would issue recommendations and guidelines related to prevention and preparedness, using memoranda, decrees, ministerial resolutions, and other means.
Not until the late 1980s and early 1990s did each country individually and the region as a whole begin to engage in systematic risk management education.
In October 1990, Partners of the Americas held an international seminar in Costa Rica, which fostered what would become, a few months later, the programs for school preparedness and emergency in Guatemala and Honduras, as well as the Emergency Education Program of the Ministry of Public Education (PEEMEP) in Nicaragua. The seminar also represented an opportunity to strengthen the Emergency Education Program in Costa Rica, which had begun in 1986.
During the seminar, each country worked on its own plan, grounded in a regional strategy. This effort began with pilot plans for four schools in Guatemala, Honduras and Nicaragua, and the expansion of the program in Costa Rica.
Around this same time, El Salvador was also taking preliminary steps to institutionalize this issue as part of the school curriculum, with help from national and international institutions, including the Pan-American Health Organization (PAHO/WHO) and the Italian Health Cooperation Agency, among others.
Panama, in turn, had a School Civil Protection Program, under Law 22 of November 15, 1982, which trained teachers across the country in emergency preparedness.
Basically, at this time Central American countries were focusing their efforts on pilot plans and preparedness training for teachers.
This focus can be seen in an agreement made in 1993 among representatives of the countries that participated in the Partners of the Americas program, during its annual meeting held in Antigua, Guatemala. They decided to begin designing the course titled School Safety in Case of Emergencies, which would systematize and standardize basic teacher training on organizing emergency plans in schools.
In 1994, in Cuenca, Ecuador, this same group validated the curriculum and course content. In July 1995, in Cartago, Costa Rica, the first trial course was held.
That same year, El Salvador and Panama joined the group of Central American countries working with Partners of the Americas, making it a more integrated effort.
This pioneer program continued providing support until 1998, when it decreased its regional activities, primarily for financial reasons, although the program still continues to operate.
Building upon this common foundation, the countries began innovating and moving into different areas of risk management education during the second half of the 1990s.
For example, Costa Rica added risk management to its primary school curriculum in 1992, and El Salvador held a workshop for the first time to discuss including risk reduction to its primary school curriculum.
In 1994, Nicaragua drafted a National Plan for School-Based Education on Emergencies, the first in the region, with the purpose of integrating interinstitutional efforts in this area across the country. Subsequently, Costa Rica, Honduras and Panama developed their own plans.
Also in 1994, in Nicaragua, Partners of the Americas Nicaragua/Wisconsin sponsored the development of a Methodological Guide for Teaching the Disaster Curriculum, as a classroom aid for teachers.
In 1995, Nicaragua and El Salvador, supported by the Organization of American States (OAS) and the European Commission's Humanitarian Aid Office (ECHO), began a pilot project aimed at reducing vulnerabilities to natural hazards in schools. In 1997, the program expanded to the rest of the region's countries.
The Coordination Center for Natural Disaster Prevention in Central America (CEPREDENAC), the OAS, and the Central American Educational and Cultural Coordination (CECC) sponsored a document titled "Anexo Institucional Estratégico en la Educación para Desastres y Reducción de Vulnerabilidad," (Annex on Strategic Institutional Education on Disasters and Vulnerability Reduction), which was formally adopted in Antigua, Guatemala on 27 January 1996. This is the first regional output aimed at doing integrated work.
In Costa Rica, the document Fenómenos Atmosféricos y Cambio Climático, Visión Centroamericana (Weather and Climate Change: A Central American Perspective), was made available to teachers, for similar purposes.
In 1997, the Regional Disaster Information Center for Latin America and the Caribbean (CRID) published Biblio-Des, which focused on safer schools and education, and provided an extensive list of authors and documents pertaining to educational issues and disaster preparedness.
In October 1998, CECC, CEPREDENAC, OAS, and the Swedish International Development Cooperation Agency (SIDA) sponsored a workshop in Panama City for the specific purpose of reviewing and coming to agreement on the Central American Plan for Risk and Disaster Reduction.
The plan was not directly related to CEPREDENAC; however, several national and international organizations close to it did work on several specific components.
In 1998, Hurricane Mitch sparked a number of projects as part of the recovery efforts, particularly in the field of training.
Also in 1998, Costa Rica developed its National Plan for Risk Reduction Education.
There have been important initiatives in the area of Integrated Risk Management Education. The First Central American Workshop on Risk and Disaster Education for the Disabled was held in Panama City on March 17-19, 1999, sponsored by the National Civil Protection System (SINAPROC), the Panamanian Institute of Special Education (IPHE), the Swedish International Development Cooperation Agency (SIDA), and CEPREDENAC.
The goal of this workshop was to exchange information and evaluate experiences in this area and to develop a regional strategy, as part of the "Framework of the Annex on Strategic Institutional Education and the Central American Plan for Risk and Disaster Education" (Plan del Seminario, Panama, 1999). Five SINAPROC and 14 IPHE staff members, as well as 2 representatives from each Central American country participated.
Also in Panama, the Juan Demóstenes Arosemena Normal School developed its own Institutional Risk Management Plan, which determines how the school will ensure its internal safety, train students, and engage in community outreach. Every year the school graduates almost 350 new teachers, whose training includes this plan and who will teach in schools countrywide.
Likewise, two pioneering regional initiatives mark the beginning of risk management in higher education in the region.
First, with support from PAHO/WHO, a Central American Commission was created in medical schools. One of its goals is to include risk management in the training of health professionals.
Second, in December 1999, at the University of Chiriquí, Panama, in the context of a university risk management project by HealthNet International, the academic vice chancellors of the region's 16 public universities approved a project that allowed for the introduction of risk management into higher education.
Also in the area of higher education, the Guide for the Self-Evaluation of Academic Programs was amended to include risk management-related issues that will have a positive impact on the integrated preparation of future professionals, as part of the section on curriculum quality standards nos. 5 and 10. This was done by the Technical Evaluation Commission of the Central American Higher Education Evaluation and Accreditation System, part of the Central American Council for Higher Education —CSUCA (CSUCA, 2002).
Continuing with higher education, several graduate programs on risk management have been created, and a number of universities, such as the Universidad Pedagógica of Honduras, have included it as a cross-cutting issue in their curricula.
The Juan Demóstenes Arosemena Normal School in Panama has included risk management as a curriculum area and has developed a 52-hour compulsory seminar on this issue for students.
El Salvador has established a Forum for Education on Disaster and Emergency Risk Management, which brings together eight institutions, including education schools in universities and teacher training institutes, in order to promote the teaching of this issue in each of these schools, as well as in joint activities.
Supported by international assistance, CSUCA is advancing a program to promote research in risk management at the region's universities, in response to the urgent need to increase knowledge on this issue.
All these countries have prepared guidelines for developing school emergency plans. Some examples are the "School Protection Plan" in El Salvador; "How to Deal with an Earthquake: A Teachers' Manual" and a "Compendium of Disasters" (May 1992) in Costa Rica; and "Organizing a School Disaster Risk Reduction Committee" (2006) in Guatemala.
In the 1990s, ministries and other government agencies began developing guidelines for making people aware of the need to organize schools and education centers to deal with emergencies.
Along these lines, different government units, national agencies and international organizations developed inter-institutional agreements to commit themselves to join efforts to address education and school safety-related issues. One example of this collaboration is the agreement signed in Panama between the Ministry of Education and the General Directorate of the National Civil Protection System, called Agreement on Technical, Scientific, Educational and Cooperation Assistance, which was revised in 2006.
All these countries have integrated this issue into their curricula for early childhood and primary education.
With regards to educational infrastructure, the countries of the region are reviewing their school vulnerability reduction programs, with support from the Organization of American States (OAS) and the Canadian International Cooperation Agency (CIDA).
Also, two important field initiatives are currently underway. CEPREDENAC, UNICEF, the UNISDR, CECC, the OAS, and the European Union are sponsoring the updating of the Central American Disaster Risk Reduction Plan, in order to strengthen it and develop strategies for its implementation.
The most recent educational activity in disaster risk management in Central America is a training of trainers workshop to be held in Panama City on August 28-31 2008, which will mark the beginning of schools becoming newly engaged in and committed to dealing with emergencies and crises in their communities.
Finally, Honduras designed a Methodological Guide to Risk Management (2006) and Panama prepared a Teachers' Manual for Risk Reduction (2007).
By Manuel Ramírez Rojas
USAID/OFDA-LAC Consultant
mramirez@ofda.gov