An upcoming risk and disaster knowledge management network titled RedDesastres
… A virtual space where you will find experiences and practices of risk and disaster reduction …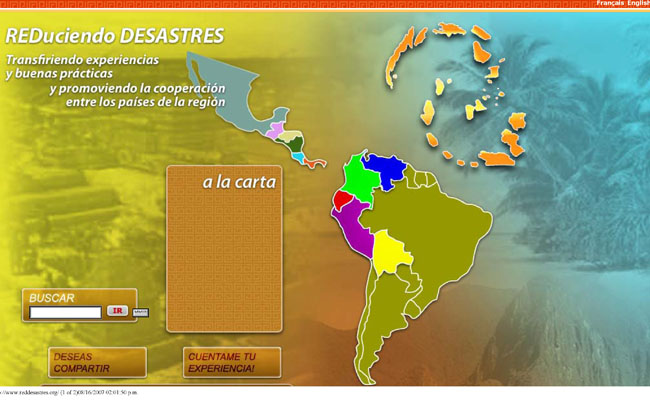 The Latin America and the Caribbean region is repeatedly affected by the occurrence of disasters. This reality has led its population to find ways to be better prepared and develop strategies or proposals intended to reverse this situation, reduce the degree to which they may be affected and decrease the level of risk in their daily lives.
With the multi-tiered purpose of advancing this exchange and cooperation effort, and respond to the vital need to learn from existing lessons and improve the practices and the work done around risk management, we are currently launching a web platform titled RedDesastres [Disaster Network] as a space where we can find timely and relevant information about what is being done in the region to reduce risks and disasters. It is a space that belongs to us all, a site we can visit, gain insight and post information about what we do and our own experiences, projects, events, analyses and assessments, tools and dissemination material, etc. It is also a space where we can share approaches and lessons learned, where we can talk about related issues, work in groups and participate in discussion forums regarding those issues that concern us … ¿What should we do to reduce disasters in our region?
And this is not only a platform. Our goal is also to include everyone in the establishment of the RedDesastres Risk and Disaster Knowledge Management Network.

This is why we invite you to share your information on what you have been doing to address this issue. Please do not hesitate to contact us by sending an email to the following addresses: linda.zilbert@un.org.pa or andres.fanco@un.org.pa.
Our RedDesastres platform is still being tested, and we are finalizing its development. However, we did not want to wait until we finished it to share its upcoming launch with you. We invite you to visit us and to take part in the creation of this community at www.reddesastres.org