The Papyrus Foundation
The Papyrus Foundation is a non-profit organization created in 1989, which took its name from the word papyrus (Ciperus papyrus), a plant originally used to produce paper. The Foundation is a legally incorporated private institution founded by Manufacturas de Papel Manpa [Manpa Paper Manufacturers] which, as part of its corporate social responsibility, fosters responsible environmental management through participatory projects and programs developed in different contexts. Papyrus seeks to value the paper used by industries as secondary raw material, and promote paper recycling, ranging from separating it from other recyclable waste at source to incorporating it into productive processes as industrial raw materials. The purpose is to respond to the continuing deterioration of our environment, as well as to the vulnerabilities and risks that result from inadequate solid waste treatment, the lack of knowledge about legal instruments, and the low level of awareness and environmental education among the population.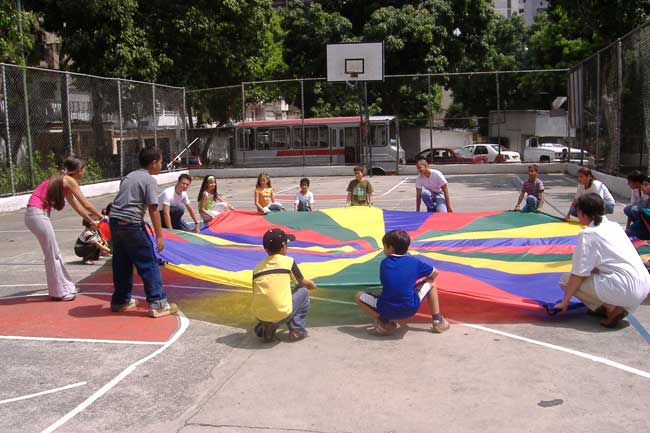 Photo: Abelina Caro
One of the major goals of the Papyrus Foundation is to develop projects that respond to educational, social and environmental purposes at community, school, organization and corporate levels, so as to foster a change in individual values, attitudes and behaviors that may lead to the better use of resources, the development of teamwork skills, the design and implementation of social and environmental action plans, and the exercise of participatory leadership.
Since the year 2000, and to broaden its socio-environmental actions, Papyrus has trained 421 teachers as environmental promoters, as part of its Papyrus Paper Recycling Project.2
As a result, these teachers have developed and implemented 219 projects and initiatives, improving the quality of life of children, youth and adults from educational communities in four Venezuelan states. Moreover, since its inception the Papyrus Foundation has developed environmental and educational projects related to solid waste recycling, especially paper. It has also trained environmental promoters in a number of communities, and has conducted feasibility assessments to create independent organizations that collect and provide the paper industry with (recyclable) raw materials.

By Abelina Caro ILarraza.3
Caracas, Venezuela
www.fundacionpapyrus.org


1A Venezuelan paper corporation with 88 years of existence, which manufactures paper and paper products with a high content of recycled material.
2A Project aimed at promoting paper collection in schools serving poor sectors. The project started in 1994 in the State of Aragua, in central Venezuela
3Social Psychologist. Fundación Papyrus Project Coordinator