BiVa-PaD: An Andean Initiative to Manage Disaster Prevention and Response Information
Information is a key resource for institutions and organizations working in the field of risk management. It is also a tool that decision-makers need to learn, analyze and use to decide upon measures and actions relating to disaster prevention, mitigation and response. Currently, any institution responsible for these aspects would hardly be able to do their job without quality information available in virtual environments.
With the development of Internet and information technologies since the 1990s, we now have access to a considerable flow of information. However, the main problem now is not the lack of information, but how to organize and process it in such a way that it serves its purpose, which in this case is to reduce suffering and loss, both human and economic, caused by catastrophes.
The exchange and dissemination of information and best practices is, as such, key to the areas of disaster prevention and mitigation. Likewise, information management is a critical element in achieving sustainable development in the Andean Region.
The project titled "Creation of Virtual Information Centers and Libraries for Disaster Prevention and Response — BiVa-PaD Network" addresses the need expressed by the Andean countries (Bolivia, Colombia, Ecuador, Peru and Venezuela) to improve the access and the quality of technical and scientific information on disasters, in line with Decision 591 of the Andean Strategy for Disaster Prevention and Response.
Access to information is also part of the course of action established by the Project for Disaster Prevention in the Andean Community (PREDECAN), and the Regional Plan of the Andean Committee for Disaster Prevention and Response (CAPRADE), as well as the work priorities set forth by the Pan-American Health Organization (PAHO), the Regional Disaster Information Center for Latin America and the Caribbean (CRID), and the secretariat of the United Nations International Strategy for Disaster Risk Reduction (UN/ISDR).
The international counterpart of this expression of political will at the Andean level is the Hyogo Framework for Action 2005-2015: Building the resilience of nations and communities.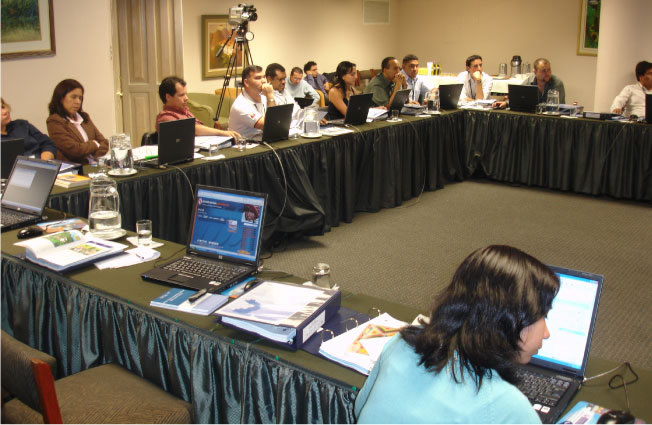 The project that creates BiVa-PaD (Network of Virtual Information Centers and Libraries for Disaster Prevention and Response in the Andean Region) draws on the priorities for action established in the Hyogo Framework for Action, particularly those regarding a better understanding and increased awareness of disaster prevention. This strategic approach places emphasis on the use of knowledge, innovation and education as essential aspects to creating a culture of safety and resilience at all levels for disaster reduction. According to the Hyogo Framework for Action, some of the main activities geared toward raising awareness of disaster prevention are: provide relevant information on disaster risk and protection measures, strengthen existing networks, encourage dialogue and cooperation among technical and scientific specialists, planning bodies and other relevant stakeholders; work jointly with the media.
Creation of Information Centers for Disaster Prevention and Response
The BiVa-PaD project is being implemented through an agreement signed by the General Secretariat of the Andean Community (SGCAN) and PAHO in early September, 2006. The project has received the financial assistance of the European Community (EC), CAPRADE's member States (Bolivia, Colombia, Ecuador, Peru, and Venezuela), and SGCAN, in the context of PREDECAN. The initiative has also received technical assistance and financial support from PAHO/WHO and the UN/ISDR.
Due to its decade-long experience in the field of disaster information management, the Regional Disaster Information Center for Latin America and the Caribbean (CRID) is responsible for the project's technical implementation. It is expected that, at the end of the project, a network of information centers will be established at the Andean level —with their corresponding virtual libraries— for disaster prevention and response in Bolivia, Colombia, Ecuador, Peru and Venezuela. The network will allow us to build technical capacity and improve information sources relating to disasters.
The project places emphasis on the need to strengthen those institutions in charge of coordinating the national civil protection systems (or their counterparts) in all five participating countries.
These institutions play the role of coordinating centers, despite their own limitations and difficulties such as the lack of capacity and human resources, inadequate organizational structure or their vulnerability to existing political situations in their countries. The coordinating centers lead the project activities and, at the same time, are responsible for creating a national network of supporting institutions.
Toward the creation of an Information Center for Disaster Prevention and Response
The project for the creation of the network of BiVa-PaD centers employs a specific concept of what an information center is, as well as its identity and rationale.
A BiVa-PaD information center is a physical and virtual space where users can access and share information services and resources for disaster prevention and response. Its mission is to gather, organize, maintain and disseminate information in order to promote its equitable, timely and efficient access, contributing in this manner to improving risk management.
It is worth mentioning that this type of center is not a static body. Although it is developed in the context of a given community, the virtual visibility of the center expands its realm of influence and its dimension. This two-pronged approach results from contact with both local and international frameworks. And because the primary focus of this project is knowledge acquisition, it is by its very nature continuously evolving.
The operational principles described within the concept of a BiVa-PaD information center are based on resource and service accessibility, the participation of those institutions that work on disaster prevention and response, a shared vision of service and proactive management, a sense of belonging to the network, and communication and visibility of its actions.
In addition, the term "user" has a double meaning within this model. It is not only the person who receives information, but also one who generates it. This changes the traditional link between information and users, and replaces the passive role of the recipient or beneficiary with that of co-participant in the process. An information center cannot work in an isolated manner, and its strength will depend on its collaboration with other centers or institutions, both at national and regional levels, that also produce information. This interaction will not only allow for greater effectiveness of the center's services, but will also allow these products to be validated by the institution where the center is hosted and by society in general.
Virtual presence is a critical aspect within this concept of an information center, since it represents the future and sustainability of any center. Users are increasingly seeking electronic resources to which they can access from their computers. Thus, the virtual version of an information center (or virtual library) must host as many information services and products as possible, make them timely and readily available, and provide an open space for the rest of the world to access them.
Improving information management capacity for disaster risk reduction and response
One of the main pillars for creating the network of BiVa-PaD information centers is capacity building among its members. For this reason, training is a major part of the project.
On the week of May 7-11, 2007, some 20 professionals from the institutions that coordinate the national civil protection systems (or their counterparts) in all five Andean countries attended a regional workshop in Peru. The activity aimed at training them on the use of basic tools for implementing virtual disaster information centers and libraries. Participants also included other professionals associated with organizations and institutions that could establish a support network in each of these countries.
A number of consultants contracted in each country by the Pan-American Health Organization (PAHO/WHO) also attended the workshop. These professionals will provide assistance to the coordinating centers in putting in place their information centers and virtual libraries. They are local professionals with experience in some of the areas included in the project, who are willing to take on the challenge of creating the information centers in institutions that, in many cases, have no experience with this type of center.
The creation of this network represents a genuine challenge that will require a great deal of collaborative effort between multiple stakeholders. Some of the many challenges that the network will have to face are: overcome the reluctance to share information, rise above institutional jealousy, give equal visibility to all network members, and achieve results from joint efforts undertaken— and all this in the context of the different idiosyncrasies of each
country.
At this point, it is important to note that efforts to create each of these national networks of information centers will not be made in an isolated manner; they will be devoted to establishing a system of networks at the Andean level that can come together with other initiatives already in place, such as the Central American Network for Disaster and Health Information (CANDHI).
After the first regional workshop held in Lima, which also served as a meeting place for all people involved in the initiative, each institution started to work on the establishment of their own information center and virtual library. This will be an arduous and complex undertaking and will require the support of their respective institutions and coordinating centers. They will also have to devote efforts to establish the strategies needed to ensure their future sustainability.
For futher information, please contact:
Isabel Lopez
CRID
isabel.lopez@crid.or.cr