Bolivia A New Perspective for Local Risk Management in the Municipality of La Paz
Rodolfo Ayala Sanchez Ph.D.
General Coordinator, Risk Management Program, G.M.L.P. – UNDP, La Paz, Bolivia
Email: riesgosgmlp@yahoo.com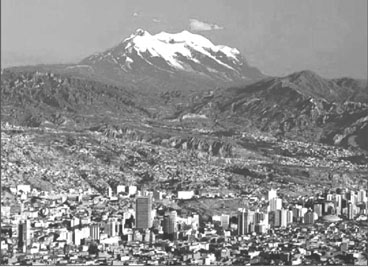 Background
The city of La Paz is the administrative capital and the second most populated city in Bolivia. The urban area of La Paz has developed in a narrow valley of La Paz River. This area features a rough topography with more than 200 rivers and streams whose soil shows unstable geological conditions. In addition, the occupation of flood-prone areas, the construction of housing on steep hills, changes experienced in water regimes, the occupation of overall unstable areas, the blocking of slopes, and the disposal of debris and dumping of wastes in canals represent major risk factors in terms of social construction. This also increases the existing level of vulnerability to potential disasters in the city.
Risk Management within the Municipal Development Plan In the year 2000, under the leadership of our current mayor, Dr. Juan del Granado Cosio, the La Paz Municipal Development Plan (MDP) was prepared for the period between 2001 and 2005. The Plan was developed through the broad-based participation of different sectors and by applying a different approach.
The MDP's main goal is to reach sustainable development in the municipality of La Paz, as a new perspective established collectively through strategic ideas and concepts that will make possible to take short- and long-term follow-up actions required to achieve this goal.
The MDP incorporates risk management based on three strategic guidelines for developing municipal policies. Each of these components implements well-defined policies and programs:
I. A Livable Municipality
It takes into consideration physical and territorial aspects, as well as urban and rural land zoning, development issues, infrastructure, equipment and services. In this context, the following policies are implemented:
• Standards for and rationalization of land use and occupation.
• Monitoring of land use planning and zoning, and provision of services.
• Establishment and institutionalization of a number of urban network systems within this municipality. Through programs for:
• Urban zoning and land using, carried out by the General Administrative Office for Land Management (OMGT). This is aimed at establishing new legal standards that may result in both an improved quality of life and environmental protection. For instance, it is expected that the new Regulations for Intensive Land Use will be developed, in the context of the Urban Zoning Plan.
• Risk management, which has been implemented by the Technical General Administrative Office during the last two years. Risk management-related activities have been funded by both the Office's own resources and international cooperation. This has led to the development of important actions in the fields of risk monitoring and protection, representing a historical investment when compared to the percentage of investments made during the last 17 years.
• Infrastructure maintenance, as an integrated component of risk management in the framework of the Annual Plan for Emergency Prevention, in particular during the rainy
season.
• Environmental control, aimed at achieving sustainable environmental protection.
• Watershed management, as a component of the Master Plan for Pluvial Drainage in the city of La Paz and the Plan for Reducing Risks in the Watershed of La Paz River.
• Emergencies, by strengthening the existing capacity in terms of preparedness and response to disasters, and by imple menting the Emergency Plan for the Municipality of La Paz.
II. A United, Equitable and Responsive Municipality
The main goal of this strategic guideline is to develop a municipality with an improved quality of life and an overall integral well-being, by implementing the following policies:
• Improvement of existing conditions in terms of safety on the streets.
• Strengthening of the health integrated system.
• Improved neighborhoods.
Through programs for:
• A healthy municipality, improving health conditions of the most vulnerable sectors.
• Safety on the Streets, carried out by the General Administrative Office for Human Development, aimed at protecting the population at large from social and personal risks.
• Improved neighborhoods, aimed at improving existing housing conditions in marginalized areas and hills.

III. An Integrated, Metropolitan Municipality
Its main goal is to integrate both urban and rural areas of this municipality as a whole, in physical, social an institutional terms in order to rationalize the exploitation of natural resources, by implementing the following policy:
• Territory and the City of La Paz
Through programs for:
• New zoning with construction restrictions, as well as the development of building categorizations, implemented by the OMGT.
• New districts, established by the Commission for Land Zoning of the Municipal Council. It proposes a new structure with neighborhoods as the smallest planning units.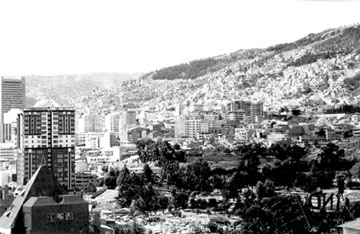 A Disaster is an Opportunity for Development
As a result of the flash floods that occurred on February 19, 2002 –as a consequence of a historic 50-minute hail storm followed by heavy rains-, 68 people were killed, 14 were missing and 130 were injured. The total economic damage amounted to 10 million dollars. All this showed that there exists a high level of vulnerability in the city. This extreme event, however, was seen as an opportunity for development and considered the catalyst of a process started in the year 2000. This process promotes two pioneering, essential and nationwide actions to be taken by the municipal government of La Paz: i) Establish the Permanent Committee for Disaster and Emergency Management and Response in the municipality of La Paz, as a inter-institutional and advisory body; and, ii) With the technical support of the United Nations Development Program (UNDP), - Bolivia, develop a program intended to strengthen municipal capacities in order to reduce existing risk and vulnerability levels. This will also lead to the creation of synergies within municipal programs and plans. The Risk Management Program has four different but interrelated modules. Each of them has well-defined products and outcomes and will be implemented through a number of steps.
Risk managent program
Module 1. Risk Management, Identification and Monitoring: aimed at incorporating risk reduction into municipal management as a cross-cutting issue.
Module 2. Response to Natural Disasters and Reconstruction: intended to implement intervention measures for risk reduction, as well as to respond to emergencies and during the recovery stage.
Module 3. Education and Training on Risk related Issues: it is important to have conceptual, methodological and practical means and instruments for processes aimed at reducing existing risks.
Module 4. Information Systems: aimed at implementing information systems related to both risks and disasters.
Two stages of this Risk Management Program have been already implemented with the valuable support of UNDP-Bolivia. The first stage was carried out between June 2002 and January 2003, and the second one from February 2003 through February 2004. The major outcomes of the first stage include:
• Establishment of a specialized unit made up of national
professionals;
• Development of the Municipal Strategy for Risk Management;
• Development of an updated map that includes existing natural and socio-natural threats;
• Strengthening of the Permanent Committee;
• Establishment of the Center for Emergency Operations (COE) in the municipality of La Paz; and,
• Holding of community training workshops in the field of risk management.
Along these lines, the major outcomes of the second stage were:
• Development of the first vulnerability map for the city of La Paz;
• Development of the first specific risk map, based upon the aforementioned threat and vulnerability maps, as an instrument for prevention planning;
• Design of an information system for risk management, based upon a Geographic Information System (GIS);
• Design of a community early warning system for flash floods;
• Holding of the first inter-institutional drill, carried out on August 29, 2003;
• Holding of workshops on risk prevention with community based organizations, taking into account that prevention begins with the use of information;
• Development of a number of risk scenarios and quantification of economic and social risks; and,
• Strengthening of risk management as a cross-cutting issue in all development plans and projects.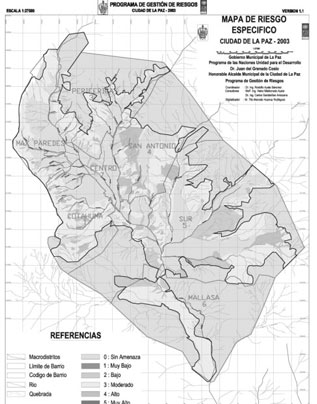 A New Perspective
Local risk management, along with appropriate environmental management, represents the best means to reach sustainable development in the municipality of La Paz. This effort can only be made with the broad-based participation of all social actors. In this sense, efforts made to prevent disasters must become a priority, instead of those efforts solely devoted for disaster management. This approach is an example that other Bolivian municipalities could subsequently follow: "co-existing with risk and transforming disasters into opportunities for development."