El Salvador: The Creation of the National
Service for Territorial Studies
Antonio Arenas
The earthquakes that shook El Salvador at the beginning of 2002 were but the most devastating in a long series of natural and environmental disasters that have struck the Central American country and, with their toll of death and destruction, have continually set back all development efforts.
Ironically, only a few months earlier, on 18 October 2001, the government had established the National Service of Territorial Studies (SNET). Had it been up and running, it is quite likely that the devastation would not have been so severe.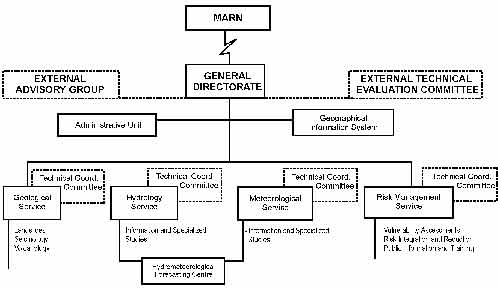 SNET has been conceived as a decentralized, autonomous administrative and financial body aimed at improved land use management for reducing the impact of natural and man-made disasters. It is formally an agency of the Ministry of Environment and Natural Resources.
The new agency integrates the competencies of several previously segregated government departments. Geology has been moved from the Ministry of Public Works; hydrology and meteorology, from the Ministry of Agriculture. Disaster management has been added to the mix, so that the information provided by the geosciences on existing hazards is linked to vulnerability assessments in order to produce territorial scenarios that can serve as the basis for policies, strategies and programmes for disaster reduction within the framework of sustainable urban and rural development.
Research, particularly applied research, and the ongoing monitoring of territorial dynamics—the concrete expression of geological, environmental and socioeconomic processes—will be two of SNET's main activities in collaboration with the national government, local governments, academia, the private sector, and civil society. The objective is to apply well-tested methods, as well as experiment with new ones, to promote the best possible use of the resources available to the various sectors of society and determine their most effective roles based on their comparative advantages.
It is clear that SNET's success will depend on a close alignment with Salvadoran society. An External Consultative Group has been established to enable all stakeholders to have a say in the projects, processes and products of the new agency. Another bridge is provided by the Technical Coordination Committees, specialized teams comprising representatives of government, universities, professional guilds and non-governmental organizations that will produce information on risk from the point of view of both the geophysical and social sciences. The information will serve as a key input into the SNET process.

One idea that has yet to be fully defined is to also have an external technical evaluation committee, made up of top-level international professionals who can meet with SNET management once a year to evaluate the quality of the agency's processes and products.
For more information please contact:
General directorate: d@snet. gob.sv
National Geological Service: Carlos Pullinger geologia@snet. gob.sv
National Meteorological Service: Leonardo Merios meteorologia@snet.gob.sv
National Hydrological Service: Ana Deisy López hidrologia@snetgob.sv
Risk Management Service: Elda Vásquez riesgo@snet.gob.sv