CERESIS Project for the Seismic Retrofitting
of Existing Adobe Housing in the Andean Region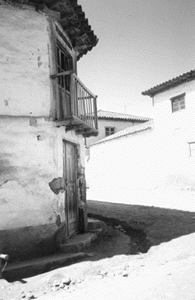 In 1992, CERESIS presented a project to the IDNDR Scientific and Technical Committee. It was aimed at retrofitting existing adobe housing in the Andean region, and was selected as one of IDNDR's demonstration projects. The German government agreed to fund it in 1994, through its foreign aid agency, GTZ.
The purpose of the project is not necessarily to prevent the collapse of adobe houses, but rather to prevent it long enough to allow the people inside to abandon the structure safely in the event of an earthquake. A few se-conds can make all the difference in the preser-vation of life, if not pro-perty.
Professionals from the Pontificial Catholic Uni-versity of Peru helped to develop the technology needed to reinforce these traditional structures. Almost four years of laboratory tests went into the effort, including the use of a vibratory table to simulate the actual motion patterns of recent quakes and see their effect on near-scale adobe structures. The lessons learned from these experiments were applied in 15 Peruvian communities, both to test the technology and to train local construction workers in these techniques. The resultant retrofitting makes houses behave as if they had been reinforced with load-bearing columns and beams, allowing them to withstand a quake for, at the very least, the vital seconds needed for its dwellers to abandon the building before it collapses.
The project has the full backing of the National Civil Defense Institute, and is currently in its final phase: its dissemination and application in other Andean countries. Starting in April 1999, similar projects were launched in Venezuela, Colombia, Ecuador, Bolivia, Chile, and Argentina.
For more information, please contact:
Alberto Giesecke, Director, CERESIS.
Email: giescere@inictel.gob.pe