TECLAC The 2004 Hurricane Season in the Caribbean Caused Losses that Exceeded $2.1 billion
In October and September 2004, the devastating trail of hurricanes Ivan and Jeanne throughout the Caribbean caused great damage in various local economies. According to a preliminary assessment carried out by the Economic Commission for Latin America and the Caribbean (ECLAC), direct and indirect losses caused by these natural disasters exceeded $1.7 billion in just three States: Grenada, Jamaica and the Dominican Republic, while information on the damage caused in Haiti, the Bahamas and the Cayman Islands is still being gathered.
According to the ECLAC's specialists who conducted this assessment, the extraordinarily active 2004 hurricane season caused grave damage, in particular in States and island nations in this region, as well as in some areas in neighboring countries, such as Florida in the United States and the island of Cozumel in Mexico. The most severe human and socioeconomic losses were caused in smaller and less developed countries, such as Haiti and Grenada, but other nations with fragile environments (such as Jamaica and the Dominican Republic) were also seriously affected.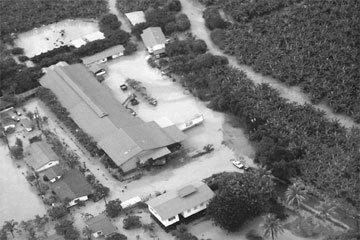 Effects of these hurricanes in the Bahamas, Grenada, Jamaica and the Dominican Republic
The Bahamas, an ecologically fragile archipelago whose larger area is composed of maritime territories, was struck twice by powerful hurricanes: Frances and Jeanne. The combined effect of both hurricanes originated direct damage and indirect economic losses that exceeded $550 million, which represents more than 10% of last year's GDP. In other words, an economy expected to grow by some 3% due to the expansion of tourist activities and new investments in this sector and in duty-free zones experienced an approximate drop of 1.7% during 2004.
Although damage in housing and road infrastructure was significant –as they show a high level of exposure due to their location near the coast and the low elevation of the island territory-, the productive sectors were the most affected ones. In the following months, the Bahamas will require international cooperation and has already requested support from the Inter-American Bank in order to have access to disaster emergency aid.
The effects of hurricane Ivan in Grenada will last for many years, especially in terms of its economy. According to current estimates, 89% of the total of houses was destroyed. It is also anticipated that economic growth in Grenada will experience a drop of 6% at the end of 2004, with a GDP contraction of 1.4%. This will be a recurring situation during the following periods as well.
Tourism and production of traditional crops were two of the most affected activities. The total damage caused by this hurricane in Grenada amounts to $889 million, which represents more than twice the GDP registered for 2003. Some 89% of this amount represents direct damage, while the remaining 11% corresponds to indirect damage (that is, effects on domestic production of goods and services).
In Jamaica, hurricane Ivan caused damage in the amount of $75 million, equivalent to 8% of its GDP. Some 62% of this amount represents direct damage to physical assets, while the remaining 38% corresponds to indirect losses due to the reduction of overall economic activities expected for 2004 and the three following years.
This disaster will reverse the tendency of growth and recovery that Jamaica had been experiencing since 2002. Before hurricane Ivan, it was expected that 2004 would be its third consecutive year of expansion, with an estimated growth rate of 2.6%. Now, however, growth will only reach 1.9%.
According to a preliminary assessment conducted by ECLAC, the passage of hurricane Jeanne in the Dominican Republic caused damage in the amount of $270 million, equivalent to 1.7% of its GDP for 2003. Some 55% represents direct damage, especially to assets and agricultural production, while the remaining 45% corresponds to indirect damage to various sectors, as well as an increase of operational costs or a reduction of income generated by services such as water, electricity, transport and tourism.
Productive sectors were the most affected ones (with 60% of the total damage), while the impact on the country's infrastructure amounted to 33% of the total losses. It was reported that only 6% of the total damage occurred within the social sectors.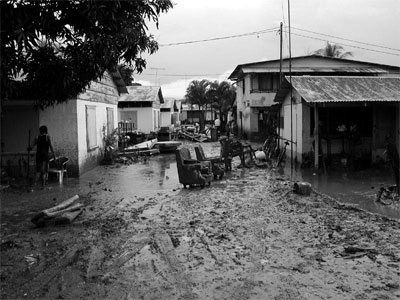 If other disasters experienced in the Dominican Republic during the last 12 months are also taken into consideration –such as landsides and torrential rain during November 2003 and May 2004-, the total damage in this country exceeds $320 million. Out of this amount, $125 million represents damage to the agricultural sector.
The situation in Haiti and the Cayman Islands
Last October, ECLAC began preparations to assist the Haitian interim government in assessing damage caused by hurricane Jeanne. The final assessment is still underway (at the close of this issue), but consequences in northern and northeastern Haiti are disastrous, in particular in Gonaives, the country's third larger city.
In the Cayman Islands, hurricane Ivan mainly impacted the tourist sector, social and communication infrastructure, and housing.
For more than 30 years, ECLAC has been developing a comprehensive methodology for assessing socioeconomic and environmental impacts of disasters caused by extreme natural phenomena. By using objective procedures for damage and loss assessment, this methodology has become a standard tool for governments in Latin America and the Caribbean, and has proven to be indispensable in designing any strategy aimed at promoting recovery, beyond its initial emergency phase.
One of the UN Millennium Development Goals –the set of goals established by 189 heads of State during the Millennium Summit, held in September 2002 at the United Nations headquarters in New York- is "to strengthen cooperation to reduce the number and effects of natural and man-made disasters."

The text of the full report on disaster assessment in Grenada is available at ECLAC's webpage, URL: http://www.eclac.cl/id.asp?ID=19587. For further information about the rest of countries assessed, please contact Ricardo Zapata, ECLAC's sub-regional headquarters in Mexico.
E-mail: rzapata@un.org.mx; telephone number:
(52 55) 5263-9600.