Celebrating the International Day for Disaster Reduction October 13, 2004
The International Day for Disaster Reduction was celebrated throughout the world on Wednesday 13th of October, 2004. The same day, the ISDR launched the 2004 World Disaster Reduction Campaign entitled: "Learning from today's disasters for tomorrow's hazards."
One of the most important ways of protecting people and assets against the devastating effects of earthquakes, floods and volcanoes is to learn to live with the existing threats and hazards in our communities. This learning process may be developed through formal education, such as schools and universities, but also through informal groups or networks, such as community meetings and activities.
A number of countries throughout Latin America and the Caribbean organized different activities at local and national levels to commemorate the International Day for Disaster Reduction. The following are snapshots of those events.
Colombia
The Colombian National System for Disaster Prevention and Response called upon institutions from the public and private sectors, and community organizations to work on all processes related to the strengthening of a culture of prevention throughout the country. With this purpose, different provinces and cities organized a number of activities, including drills, meetings with emergency teams, and technical and educational presentations, among others. In addition, a number of activities were carried out at the Nuevo Gimnasio School, in Villavicencio, in order to commemorate this international day. In July and October, for instance, five different technical meetings were held with teachers to put in place response plans. Group activities were also carried out in order to analyze existing risks and vulnerabilities, ending with a drill that proved to be successful. Thanks to the leadership and commitment of the school authorities, the goals of these activities were met, and they now have an emergency and evacuation plan, which will be used for protection and safety management in this school.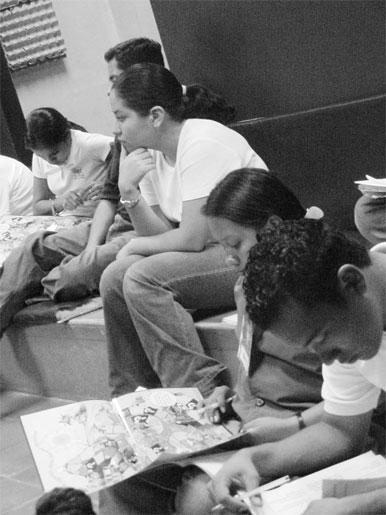 Perú
As part of the activities carried out to celebrate the International Day for Disaster Reduction, the National Institute for Civil Defense (INDECI) promoted a number of activities aimed at promoting a culture of prevention among the Peruvian population. First, the Committees for Civil Defense carried out evacuation drills in some of the most populated districts in Lima and other regions of the country. In addition, INDECI organized the First National Drawing, Painting and Story Contest intended for children and youth in Peru. The theme of this contest was disaster prevention. Hundreds of children from all over the country sent their works of art to INDECI's main headquarters located in Lima. Finally, INDECI organized a ceremony to recognize the work done by the media and opinion leaders who have continuously supported campaigns intended for raising awareness among the Peruvian population.
El Salvador
In order to celebrate this day, the SNET organized three different activities with children. The first activity was a presentation on risk reduction and management in El Salvador. This activity was carried out with guides working at the Salvadoran "Tín Marín" Museum for Children, so that its staff could learn more about risk management related concepts in a more effective and clear manner, and gain a better understanding about risk reduction. This activity represented an opportunity to provide participants with the education kit entitled "Learning to Prevent Disasters". The second activity was carried out at UPA, a radio station for children, through a radio program broadcast to talk to children about floods and their origin, the most affected areas, and recommendations and actions to prevent them, in particular those activities in which children may participate and contribute to risk reduction. Finally, a photo exhibition entitled "Learning about Risk Reduction and Management" took place at the Western Regional Museum. This activity was intended to communicate and address risk management related issues, and the geological, meteorological and hydrological monitoring activities carried out by the SNET; as well as the actions taken to promote risk reduction in El Salvador.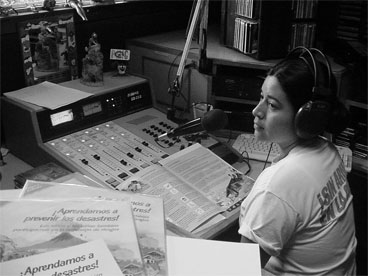 Argentina
In Mendoza, in the context of the 2004 World Disaster Reduction Campaign entitled "Learning from Today's Disasters for Tomorrow's Hazards", the Ministry of Social Development and Health joined the activities carried out at the international level to minimize the consequences of potential disasters faced by the world population.
This opportunity was also taken to present on the progress made and address a number of provincial policies for risk reduction that, in the context of sustainable development, the Provincial Program for Social Emergencies is currently implementing.
Bolivia
With the purpose of informing the population on how to protect their safety and properties against potential disasters, the Ministry of National Defense, through the Vice Ministry of National Defense and Cooperation for Integrated Development (VIDECICODI), commemorated this international day by organizing a fair at El Paseo del Prado. The goal of this fair was to inform the population about the activities held to prevent and reduce disasters, as well as development plans, projects and programs carried out or to be implemented by this Ministry. The fair also gathered national and international governmental and non-governmental organizations that carry out similar activities in the field of risk management, including World Vision, WFP, PAHO/WHO, Municipal Mayors' Offices, Fire Departments, search and rescue groups, the United States Southern Command, the Red Cross, SEDES, CARE, and the local Prefecture, among others.
Guatemala
The National Comission for Disaster Reduction (CONRED), jointly with the Volunteer Fire Department, the Municipal Fire Department of Río Hondo, the National Civil Police, INAB and MINEDUC in Zacapa, organized a walk with students from different education centers.
Furthermore, the San Carlos University of Guatemala (USAC) commemorated this day with a small gathering entitled: "Towards the Construction of a Safer Society for All." This event was organized jointly with the USAC Commission for Disasters, the Engineers Association of Guatemala (Council for Continuous Education) and the Citizens Convergence for Risk Management (COCIGER). The event gathered professionals, university students, technicians, staff from different institutions, and community members interested in this issue.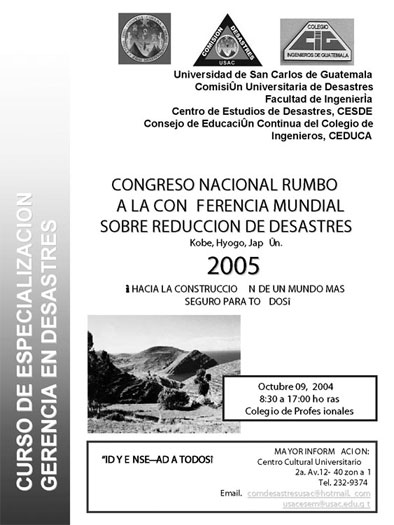 Panamá
An inter-agency activity was organized to celebrate the International Day, in which participated UNICEF, WFP, OCHA, IFRC, SINAPROC and other governement authorities. The focus of this event, during which the Riskland game was launched, was on promoting the importance of education for disaster risk reduction in the region. "We cannot prevent hurricanes and earthquakes to happen, but we can take action to reduce their impact on children and citizens in general", said Nils Kastberg, the Regional Director of UNICEF, who participated in this launching event.
SINAPROC celebrated this international day with the activity entitled "Week for Disaster Reduction" which promoted this year's theme, "learning", as a tool to be used to save lives and assets that may have been affected not only by nature but also by human actions on natural resources, which on many occasions cause disasters and emergency situations. Prevention flyers were distributed throughout the country. Finally, an inter-agency activity took place with the participation of OCHA, IFRCRCS and UNICEF
Brazil
The Regional Coordinating Bureau for Civil Defense in Campiñas organized a seminar that focused on the assessment of preventive actions as a means for minimizing the effects of floods, storms, landslides and other phenomena. The actions taken by this institution included an information campaign through which brochures were distributed among the population to encourage reflection and raise awareness of the importance of prevention for disaster reduction. These activities were held in different cities, with the participation of public authorities and the media, among others.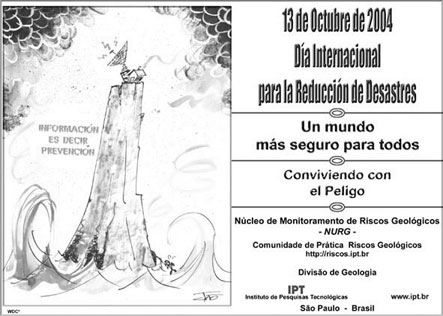 Costa Rica

On October 11-15, the National Emergency Commission (CNE), jointly with the Local Committee for Emergency Prevention and Response of San José, organized a fair and other activities in education centers, such as drill and contests, to celebrate the International Day for Disaster Reduction, under the theme "Teaching: A Way of Prevention". During that week, local emergency committees held activities in different districts in San Jose. In addition, On Monday, October 11, 2004 the Ministry of Public Education signed an executive decree in order to include the National Education Week for Risk and Disaster Prevention in the school year calendar. In sum, the activities held to celebrate this international day included four different components: the signing of the decree for the inclusion of the National Education Week for Risk and Disaster Prevention in the school year calendar; the holding of a fair at the "Plaza de la Cultura" on October 13-14; a drill at the Unified School and, finally, two different contests: one on Riskland game as well as a painting competition in 5 education centers with the purpose of addressing risk issues through a participatory and artistic process.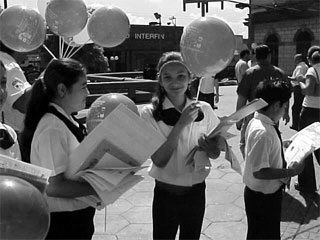 As part of the International Day activities drills were organized in Costa Rican schools.