Living with Risk a global review of disaster reduction initiatives Volume I and II
Living with Risk - a global review of disaster reduction initiatives is intended for people interested and practitioners in disaster risk management and sustainable development. It seeks to provide guidance, policy orientation and inspiration as well as a body of reference to further the study of the subject. Rather than focusing on specific experiences of disaster preparedness, response or recovery, it aims at providing a comprehensive compilation of initiatives and reference information on disaster risk reduction.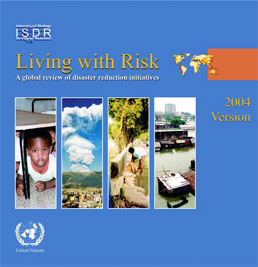 Reviewing past and present achievements in disaster reduction and outlining the broad range of activities and the many actors involved, Living with Risk - a global review of disaster reduction initiatives contributes to the process of establishing a common understanding of the subject. It complements the UNDP publication Reducing Disaster Risk: A Challenge for Development (2004), identifying trends and highlights future challenges and priorities in ensuring safer and sustainable communities.
The findings will form the backbone to the ten-year review of the implementation of the Yokohama Strategy and Plan of Action (1994). It will also contribute to set the future international agenda for disaster risk reduction to be discussed at the second World Conference on Disaster Reduction to be held at Kobe-Hyogo, Japan in January 2005.
The review is divided into chapters that closely follow the areas of focus as set out in the framework for disaster risk reduction described in detail in chapter six. Each chapter is divided into sections that address issues related to the overall chapter theme, concluding with a list of future challenges.
Living with Risk is now available in CD format in Spanish and English
For more information please contact: eird@eird.org