Disaster risk reduction 1994-2004 A set of 3 CD-ROMs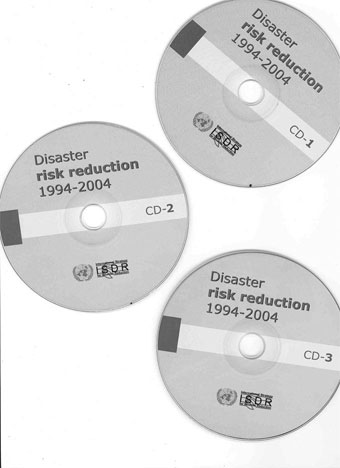 Compiled by the Inter-agency secretariat of the International Strategy for Disaster Reduction (UN/ISDR) and presented on the occasion of the World Conference on Disaster Reduction 18-22 January 2005, Kobe, Hyogo, Japan
Following the first World Conference on Natural Disaster Reduction held in Yokohama, Japan in May 1994, a wealth of literature and information on disaster reduction has been developed by a range of individuals, institutions and nations.
This CD set represents the first compilation of disaster risk reduction documentation and information (in full text) derived from a range of ISDR partners around the world. Comprising reviews and reports prepared and collected in the context of the review of the Yokohama Strategy, it presents guidelines, tools, articles and case studies to promote and support the application of disaster risk reduction.
The ISDR secretariat will continue to develop further compilations on issues related to disaster risk reduction aiming to enhance a "virtual library" on this subject. This initiative is part of ISDR's clearinghouse function to raise people's awareness and capacities to reduce disaster risk.
CD-1: Review of the implementation of the Yokohama Strategy and
Plan of Action for a Safer World, 1994-2004
Country information on disaster risk reduction
CD-2: A selection of literature on disaster risk reduction
CD-3: A selection of literature on disaster risk reduction
Feedback and contacts:
The ISDR secretariat encourages your comments and feedback on both the content and format of this CD-ROM set.
Contributions to future compilations are most welcome and should be addressed to Marie-Lou Darricau, darricau@un.org