How Can I be a Risk Reduction CHAMPION?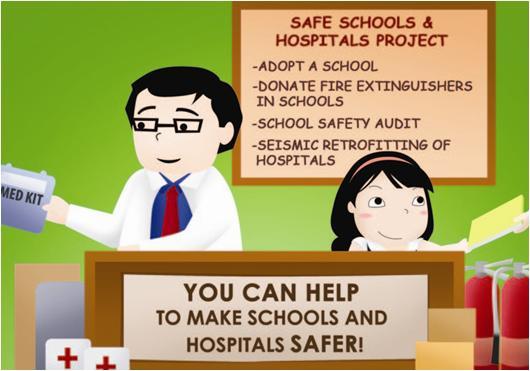 "I PLEDGE TO CONTRIBUTE MY TIME, EFFORT AND RESOURCES TO MAKE SCHOOLS AND HOSPITALS SAFER ."
YOU CAN help make your school, hospital or health facility safer!
Are you...
a student?
YOU CAN make a list of unsafe facilities (e.g. broken windows, unsafe electrical wire) and submit it to the principal.
a teacher?
YOU CAN prepare safety and emergency signs (e.g. EXIT, Evacuation Route) in your school.
a parent?
YOU CAN raise funds to purchase fire extinguishers for your school, hospital or health facility.
a hospital worker?
YOU CAN request the administration for replacement of non-working fire or smoke alarms.
an engineer?
YOU CAN volunteer to conduct seismic assessments of schools or hospitals.
a building administrator?
YOU CAN initiate vulnerability assessment of facilities and equipment.
a governor or mayor?
YOU CAN prioritize the retrofitting of dangerous schools and hospitals.
a head of a national government?
YOU CAN announce that schools, hospitals and health facilities will be assessed for safety from possible hazards by a certain date.