Northern Catholic University of Chile:
Education as a Tool for Disaster Reduction

Like many other countries in the world, Chile is frequently affected by natural disasters, and many of them, such as flooding and earthquakes, are recurring events. Such phenomena hardly leave people indifferent. Certain risks are exacerbated by a lack of or little awareness and knowledge about natural events that cause disasters, and by increased population density and a high level of vulnerability in populated areas.
As a result of widespread access to the Internet and television, it is now possible to better grasp the extent of a disaster. Image after image reveals the pain and devastation caused by tsunamis, hurricanes, earthquakes and floods, though the effect seems to be only temporary.
People do not expect disaster to strike in the area where they live, yet when a disaster occurs, questions arise as to why nothing was done to prevent it. The most effective tools for preventing disasters and mitigating their impact on populated areas are improved urban planning and education. The latter is especially relevant, since a person who is knowledgeable on the subject will make better decisions in time of disaster.
Education and knowledge have always been the most useful tools for human and community development. Along these lines and bearing in mind the importance of future perspectives, introducing a course on natural disasters is just as necessary as an emergency response after a catastrophe has occurred.
The DELTA program, natural disasters and the UCN
Since 1997, the Northern Catholic University of Chile (UCN), along with various organizations, has carried out a series of studies on seismic risk in Antofagasta, in northern Chile. These studies finally led to a new proposal: education as a measure for disaster mitigation and management.
The initiative, led by geologist and Director of Graduate Research at UCN, Mario Pereira, was incorporated in mid 2005 into the extracurricular academic program titled "Developing and Leading Academic Aptitude" (DELTA by its acronym in Spanish).
The program is intended for academically gifted primary and secondary students in Antofagasta and Mejillones, and aims at developing children's and youth potential and skills, as well as promoting their productive integration into society, thus contributing to the development of the human capital in the region and the country at large. According to DELTA's Assistance Academic Director, psychologist María Isabel Guzmán, the program contributes to the integrated education of its students through an excellent educational service, and it serves as an agent of social change, forging links between the university and the school system, and between the university and the community in general.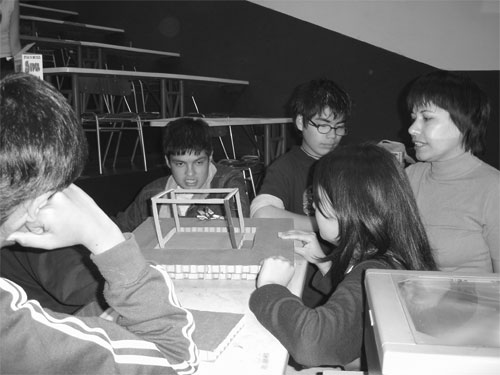 The primary goal of the Delta-UCN program is to provide an innovative curriculum that is challenging, meaningful, representative of the region, and specifically designed to meet the needs of academically gifted students. Both the workshop and the course on natural disasters have been successfully developed within this context.
The course, which has been taught during the last two semesters, is led by journalist Cinthia Rojas and architects Alexandra Joo, María Pilar Vargas Salazar, and Mitchel Pizarro Prieto. It seeks to increase the knowledge acquired by students on natural phenomena and their impact on their communities, and raise awareness of the importance of reducing risks and, thereby, disasters.
Forty-five students between the ages of 14 and 16 have taken the course during the latter half of 2005 and the first half of 2006. In addition to learning theoretical concepts about natural phenomena, they carried out on-the-ground risk assessments, based upon their own viewpoints. This practice was discussed with international experts, who shared their experiences with the students via videoconferencing. This has led to ongoing communication between Chilean students and professionals from other countries, such as Antonio Rosquillas, former director of the Civil Protection Agency in Tijuana, Mexico; Luis Mendoza, geophysicist from the Ensenada Center for Scientific Research and Higher Education in Mexico (CICESE); and Dr. Carlos Villacís, coordinator of the UNDP Global Risk Identification Program (GRIP).
These virtual meetings have contributed to develop critical thinking among the students regarding existing risks in different regions and communities where disasters take place. They have also contributed to a new vision about risk situations and the relevance of disaster reduction.
This experience, which is unique in Chile, seeks to consolidate disaster prevention and reduction as a relevant topic and serves as a basis for future decision making. As a result of the workshops, which are held at UCN branches, students have begun to identify risks and propose similar courses in their schools, which will have a multiplier effect on efforts made to raise awareness of the importance of disaster prevention and risk reduction.
Youth and Disaster Prevention
The DELTA-UCN program intends to identify, stimulate and develop academic skills in children and youth, whose environment does not provide sufficient opportunities to cultivate their potential. Thus, it works primarily with students from municipal schools.
The main objective of this program is to offer children and youth learning opportunities that enrich, expand and deepen the lessons that they normally learn in the classroom. The topics and methods are organized based on the students' interests, prior knowledge, pace and learning style.
In this way, the course on natural disasters has begun a process in which students can relate more closely to the phenomena that cause disasters and formulate proposals for risk management and mitigation. In the workshops, for instance, students have the opportunity not only to learn about theoretical aspects about earthquakes, floods, tsunamis, etc., but also to build models, simulate disasters and propose more resistant materials and practices based on the soil type and other geographic characteristics.
They have also learned to use the RADIUS software, which allows them to use real data to simulate earthquakes in the city of Antofagasta and identify the areas of greatest risk. Later they visit these areas to conduct field research. This gives students a more realistic and graphic view of the existing vulnerabilities in the city where they live and study.
For Jonathan Torres, a 14-year old student at the Domingo Herrera school in Antofagasta, the course on natural disasters "is a good course, because it teaches very useful things. I believe it will help me to be prepared for any natural disaster that might occur. I have learned how to take care of myself in a disastrous event, how to prevent it and why they occur. I believe disasters can be avoided or at least we can minimize their impact by educating people. They would know what to do and would not lose control under the pressure of a natural disaster."
Juan Olivares Serrano, a 16-year old student at the General Oscar Bonilla school (A-26), thinks that "the course is interesting and fun. We learn to protect ourselves and what to do during a disaster. I have also learned how natural disasters occur, how to escape from danger, and how to reduce risks. People often die in disasters because of their own ignorance or because of a lack of preparation. In general, we only react once a disaster has occurred and then try to make it through the emergency. That has to change."
Carolina Alcayaga a 15-year old student at the Marta Narea school pointed out that she "chose this course because I would like to become a civil engineer. This is why I want to learn how to build things in such a way that we can avoid disasters. I mean, what type of materials we should use, the structure that we should develop, etc. I have learned much more than that. Now I know that in order to prevent disasters in buildings, I should know about construction materials, but also know about the soil types, where and how I should build these buildings, the level of vulnerability in a given area, how many people could live in a building, etc. Stronger buildings help prevent people from dying."
This new learning experience, which the UCN has made available for students of different ages, has provided them with the opportunity to learn more about other real-life situations and has furthered their development.
During their field visits throughout the course, students have carried out vulnerability assessments related to existing risks, structure quality, soil types, population density, and other related topics. Students were also invited to attend the National Geology Congress, which took place in August, in Antofagasta. During this event, the interactive board game titled "Riskland", developed by the ISDR and UNICEF, which was also part of the course on natural disasters, will be introduced and distributed to several schools, so that more children are able to play and learn more about disasters.

For further information, please contact:
Cinthia Rojas Castillo
Journalist and Associate Researcher, UCN
cirojas@ucn.cl
www.deltauc