Characteristics of a disaster resilient community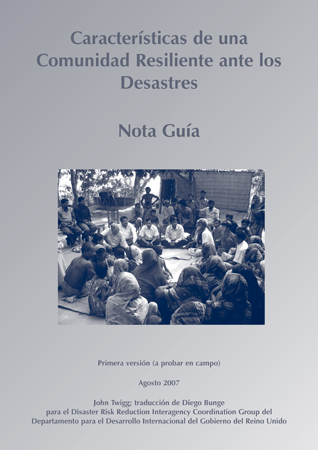 In 2006, five UK-based international development organisations plus the British Red Cross jointly commissioned a review of existing monitoring and evaluation frameworks for livelihoods and disaster risk reduction projects. The aim of the joint undertaking was to develop a better understanding of what sets of indicators could be employed at the local level to assess progress of efforts in increasing community resilience. In recent years, these agencies have received funding from the UK Department for International Development (DFID) for disaster risk reduction (DRR) initiatives and to support the promotion of the Hyogo Framework for Action (HFA), particularly at the local level. However, when discussing how to monitor the success of the implementation of the HFA, it became apparent that there was nothing to measure its impact at the community level.
The results of this participatory review involving the agencies and their Southern partners are published under the title 'Characteristics of a Disaster Resilient Community'. The launch of the publication presents a first step in a process of piloting and testing the suggested framework that the commissioning agencies have committed to. Action Aid, Christian Aid, International Federation of the Red Cross and Red Crescent Societies, Plan UK, Practical Action and Tearfund have agreed to use these characteristics as a basis for developing monitoring indicators, structuring project evaluations, for capacity assessments and conducting wider impact analysis in a number of countries and disaster risk reduction activities.
All agencies will use the characteristics either to develop new or improve existing project monitoring indicators. The main activities monitored within this framework will be disaster risk reduction and livelihoods initiatives that aim to contribute to improving people's capacity to respond to, cope with and recover from natural hazards and other external shocks.