CRID: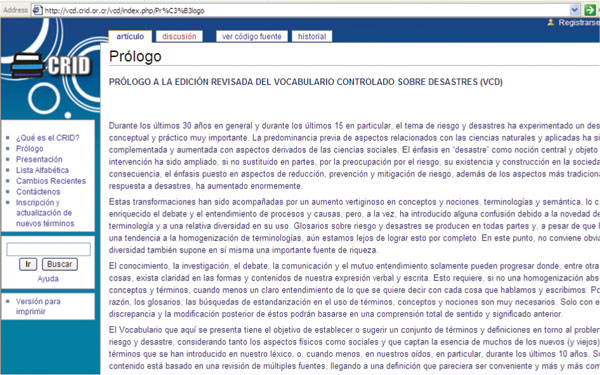 For more than a decade, the Regional Disaster Information Center for Latin America and the Caribbean (CRID) has been working on the creation of specialized disaster information centers, and on implementing networks for strengthening the capacity required to systematize information resources. This process was given more importance after the devastating impact of Hurricane Mitch on several Central American countries in October 1998. At that time, several organizations decided to join efforts to strengthen the meager existing information services and resources specializing in disaster management in Central America.
This effort led to the creation of the Central American Network for Disaster and Health Information (CANDHI) in 2000. Made up at first by the two countries that had been the most affected by Hurricane Mitch—Honduras and Nicaragua—the network later expanded to include the entire isthmus. The National Library of Medicine of the United States (NLM), the Pan-American Health Organization (PAHO/WHO), the United Nations International Strategy for Disaster Reduction (UNISDR), and the European Commission's Humanitarian Aid Office (ECHO) contributed with resources to this initiative.
In the last year and a half, a new network of information centers has taken shape in the Andean region: the Network of Virtual Libraries for Disaster Prevention and Response (BiVa-PaD). This network is operating in an equally vulnerable region with the same goals and methods to make information available to professionals and users who need it to formulate policies, provide documentation for initiatives or projects, or simply improve their own knowledge on the issue.
Creation of Specialized Information Networks for Risk Management
In the process of developing specialized networks, CRID's primary role has been to provide technical assistance. As these networks have been created and strengthened, CRID has been able to find its own niche in the area of disaster information management. CRID is not only a center for collecting specialized resources on this issue; it is also a unit that provides assistance and expertise, thus contributing to the development of a model to create information centers, which can be replicated in many countries of Latin America. It is clear that there is a need for this type of role. While there are many institutions working on risk management, they continue to face significant limitations in the area of selecting information, organizing it, and making it available to the public.

CRID is taking significant steps towards the creation and strengthening of these information structures, which are clearly a value added for participating countries. In the framework of the BiVa-PaD project, one example of these steps is a workshop held in Ecuador last February, where computer programmers and information management personnel from the institutions that lead the Disaster Response and Prevention Systems of the Andean countries were brought together to discuss a number of issues in parallel sessions. The goal of the workshop was to strengthen the information management mechanisms and resources of these institutions.
II Sub-regional Workshop for the Creation of the Virtual Libraries Network of the Andean Region: the BiVa-PaD Network
CRID continues to lend support to the centers that participated in the project that contributed to establishing the CANDHI network, and would like to increase it in the months to come in order to improve the network's information services.
The CRID initiative is sustained by the ongoing support provided by the National Library of Medicine of the United States (NLM), since the time the CANDHI centers were established. The NLM is now providing new assistance to each center, in order to improve their services and information products on health and disasters. CRID—which will support all these centers along the process—will also receive financial support from NLM to improve and create new information services and products (a specialized portal on health and disasters, updated CDs on health and hurricanes, health and volcanoes, and the avian flu). CRID also contributes to building information management capacity in all CANDHI centers through virtual training.
Furthermore, CRID is engaged in technological innovation initiatives to strengthen national capacities of participating countries and their information centers. For instance, the Controlled Vocabulary on Disasters (CVD) has been revised and adapted to Wiki tools. This will make on-line collaboration between all the centers possible for the first time, and will allow for revisions and updates.
Image of the Controlled Vocabulary on Disasters (CVD), on Wiki

At the same time, CRID already has Metadoc, a tool that allows digitized documents to be managed by storing metadata in an XML file, which also helps to better manage, store and retrieve information included in these electronic documents. This tool also increases the possibilities for presenting the content of the documents in multiple formats (RSS, PDAs, Web services, etc.)
The toolkit for managing disaster information will be updated in the next few months to include new content material. The format of the product will also be adapted so that it can be an Internet-based tool that all the countries are able to use.
The creation and development of this concept of information center networks draw on the use of the same information management model (based primarily on low cost tools, many of them created by BIREME and used by different centers in Latin America) in the common search for technological and information management solutions that allow the proposed working model to be continuously refined, in order to better meet the needs of the users. This effort has relied on the support and collaboration received over the years through a number of synergies established with many institutions and organizations, such as the United Nations International Strategy for Disaster Reduction (UNISDR), the Pan-American Health Organization (PAHO/WHO), the Andean Community's Project to Support Disaster Prevention (PREDECAN), the National Library of Medicine of the United States (NLM), and the European Commission's Humanitarian Aid Office (ECHO).
All these efforts have allowed for the creation and strengthening of the networks, which not only make it possible to decentralize information collection, but also to create a structure with various hubs that can become national reference points for providing information, as well as strategic partners for the ongoing refinement of the working model.
In addition to the challenge of continuing to develop an information management model that is useful for the countries of the region, CRID is devoting efforts to address another equally important challenge.
The big challenge: Turning Information into knowledge
So much information is being generated and produced today that the process of turning information into knowledge has become very complicated. A great deal of information exists all over Latin American on risk management-related issues. In fact, in the last few years, many initiatives have placed emphasis on the information issue by creating specialized portals and collecting experiences and tools.
Most of the time, however, it is difficult to turn information into knowledge, as well as to ensure that information is a basic part of, and an instrument for supporting the processes that are being planned or implemented in the areas of disaster prevention, preparedness, mitigation, response, and reconstruction. The great challenge we face is that of connecting theory to practice, extracting ideas that not only help us understand what is being done on the issue, but also provide guidance for new activities, policies, solutions, projects, and initiatives.
Bearing in mind this need, CRID has begun to take steps in this direction through several lines of work. One of the things we are doing is developing closer relationships with specialists and experts on the various areas related to risk management. These relationships should facilitate that connection needed between information management specialists and those who produce and generate the information, especially those who are key for transforming this information into knowledge.
In this sense, last May, CRID invited a number of recognized professionals and experts in Costa Rica to its first working breakfast on the issue of climate change and risk management.
There are two primary goals for developing a closer relationship with these experts: 1) to create regional networks of specialists on CRID's work areas; and 2) to help CRID be able to better support, and provide information to the sectors targeted by its efforts (institutions dealing with risk management, the Ministry of Health's focal points for disasters, etc.), through greater ownership of its products, resources, and information services.
At the same time, CRID is also focusing on improving the way information resources are compiled on certain issues that represent a priority, defined by common agreement with CRID's most important partners (the Pan-American Health Organization and the UUNN International Strategy for Disaster Reduction).
These are just some of the most important challenges that CRID will be facing in the near future and where it is already taking steps to address them. The ultimate goal is to improve its performance and recognition at the regional level as a high-level center specializing in the collection and distribution of risk management information, as well as to consolidate its role as an institution that provides countries of the region with technical assistance on information management, going beyond the paradigm of simple information collection and centralization, in order to turn information into knowledge through consolidated information centers in every country.