A summer camp titled "Preparedness Saves Lives"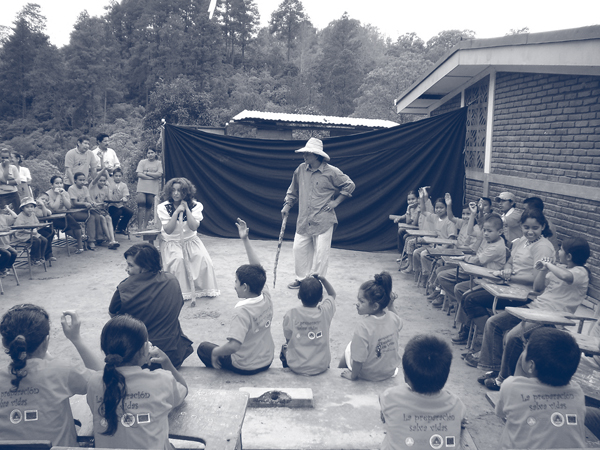 A participatory experience with children and adolescents from rural communities, drawing on the knowledge about disaster causes and the need to be prepared to face them.
Taking advantage of the school vacation, ACSUR-LAS SEGOVIAS decided to carry out a new initiative with four rural communities located in the municipality of San Fernando (Las Camelias, El Amparo, El Ural, and San Nicolás), in Northern Nicaragua. The primary goal was to foster insightful, critical and proactive participation of children and adolescents, in order to promote and apply risk management, especially in the context of participatory processes for developing school safety plans.
The effort was developed in the form of a summer camp called "Preparedness Saves Lives," in the context of the project titled "Municipal and community-based capacity building for disaster preparedness in the municipality of San Fernando." The project is part of the DIPECHO V Action Plan for Central America, funded by the European Commission's Humanitarian Aid Office (ECHO).
With the purpose of contributing to the world campaign titled "Disaster Risk Reduction Begins at School," launched by the secretariat of the UN International Strategy for Disaster Reduction (UNISDR) and its partner institutions (2006-2007), ACSUR joined this effort and trained teachers on how to conduct the summer camp, prepared plans and carried out drills, fostered knowledge about risk management, and built methodological capacities for applying the "risk guides" of the Ministry of Education (MINED). The overall goal was to contribute to priority for action 3 of the Hyogo Framework for Action (HFA).
The summer camp was designed to raise awareness among children and adolescents about risk management, linking it to school safety and fostering their participation in the process of developing school safety plans.
The goal was for children to understand the causes of disasters in their environment, communities and schools, as well as the actions to be taken to prepare the education community in case of a disaster or an emergency situation. In addition, they would learn how disaster preparedness and response efforts are organized in their own communities.
Activities had a fun and educational format, and included games and non-formal motivational techniques, such as plays, group dynamics, stories, drawings, piñatas and songs, among others.
A total of 235 children and adolescents participated in the summer camp. They were grouped by age (6 to 8, 9 to 11 and 12 to 15 years of age) because the theoretical contents and tools had been adapted to each age group. There were many challenges, especially in terms of keeping the children's interest in and attention to risk management issues during four days, without thinking that these were just like any other school activity. This is why games and outdoor activities were part of the program.
A team made up of teachers and project technical staff was established to plan the summer camp. They developed the contents and chose the tools to be used with each group when presenting on the different topics. Some of the tools considered —developed by several institutions and agencies, such as MINED, UNICEF, the Red Cross, and CONRED in Guatemala— addressed risk management and education for school children. The same team was also in charge of leading the summer camp.
Some activities included the broad-based participation of parents and community leaders, who also contributed to preparing school plans for their respective communities.
The summer camp included a four-hour session daily during four days. Each day was devoted to addressing a particular topic, but all of them were interrelated so that certain continuity was maintained.
Topic 1: Climate change and disasters
The first session began with a worldwide issue, climate change, and its relation to disasters. Examples used referred to the children's own environments, communities and municipality.
Topic 2: Hazards, vulnerability, capacities and preparedness in schools and communities
During the second session, a number of concepts and terms were explained, such as hazards, vulnerabilities, and preparedness in schools and communities. This session prepared participants for topic 3, which addressed the importance of schools being prepared and protected.
Topic 3: Prepared and protected schools
During the third session, after a general presentation on the topic, the groups with older students identified existing hazards, vulnerabilities, capacities and risks in their schools, and developed risk maps for their school safety plans.
Topic 4: Participatory development of school safety plans
Based on the information gathered during module 3, the fourth session focused on developing school safety plans in a participatory manner.
This session may be revisited and improved by other institutions so that, through education, we all contribute to strengthening and disseminating knowledge among children and citizens, for them to be more aware and better prepared in case of a disaster.
For further information, please contact:
José Manuel Salais
nicaragua3@acsur.org