Stop the rain from falling!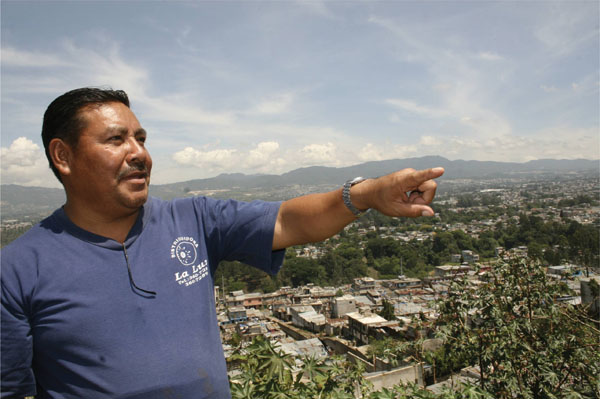 It rained nonstop last night. So it did the night before. The rain made some people sleepy: those with no concerns because their homes were safe. But undoubtedly, thousands of slum dwellers in Guatemala City could not sleep at all. The next day, they could only thank heavens that they were still in one piece. Despite the garbage and water that flooded the alleys of these informal settlements, they were alive and their hovels were still standing, hovering precariously on the edge of the ravines. They got up and, as usual, they went to work in factories and at the local market. They also sent their children to school but, when it became dark again, there was fear… What if it rains again? What if this time the soil cannot withstand so much rain? The dark night, the dogs barking, and the rain falling on the roofs, they all were the presage of a disaster that could occur at any moment.
Fortunately, if we know what to do in case of a potential disaster, we will also be able to cope with fear.
Humanitarian aid provided by the European Commission (EC) is guided by the fundamental principles of humanity, impartiality and neutrality. Based on these principles, the EC has lent support to the project titled "Strengthening Disaster Preparedness in Urban Settlements in the Department of Guatemala." The project is financed by the European Commission's Humanitarian Aid Office (ECHO) and implemented by Oxfam GB, in partnership with two local organizations: Fundación Esperanza y Fraternidad (Hope and Fraternity Foundation —ESFRA) and the Instituto para la Superación de la Miseria Urbana (Institute for Overcoming Urban Misery —ISMU).
The 15-month project began in February 2007, and it will benefit some 25,000 residents of the following urban settlements: Nuevo Amanecer, Arenera Alta and Arenera Baja, located in Zone 21; Las Joyas (1 to 5) in La Verbena, Zone 7; and Tierra Nueva II, in Chinautla.
Mr. Margarito Reynoso, resident of Arenera Alta, stated that, "When we created a committee, eight years ago, the streets were paved, an embankment was built, and a public lightning system was put in place… Before, there was nothing here, except for a public standpost. Later, with the committee, water was brought to our houses, and then a drainage system…." This substantiates the fact that local people are the ones who can make significant changes within their own communities. This is why the project is aimed at building people's capacity to respond to disasters, particularly because, since they live there, they can take immediate action to deal with any difficult situation.
Training sessions are held every other week with more than 20 community members. They have been able to organize themselves and create five brigades, each with its own area of expertise. Ms. Marta Julia Ocox Catalán, who has lived in La Verbena for about 27 years, stressed the following: "I am a representative of La Joya 3, and we are building our capacities, along with Mr. Luis, who is the coordinator. We received training so that we could establish five brigades and prevent disasters. These are the first aid, the rescue, the shelter, the evacuation and the damage assessment brigades."
Fortunately, local leaders who live in low-risk areas (their houses are not that close to the ravines) have also shown interest in participating. Marta, for example, participates because she knows what it is like to be at risk. When she first moved to this area, she had to live in a small, deteriorated house, but then she was granted a loan to make improvements. She now supports people who live in all the five sections of La Verbena called "Joyas".
Humanitarian aid is an expression of support, in this case from Europe, targeting the most vulnerable groups worldwide. Their support has brought hope to these Guatemalan settlements, whose optimistic names are now making more sense: Milagro de Amor (love miracle) and Vida Nueva (new life) are some of the places where residents have made a broad-based commitment with their communities, and have teamed up around the possibility of being at risk. The neighbors committee walks up and down the streets, assessing houses that are about to collapse.
Some municipalities are also helping with infrastructure works, donating blocks and cement to build walls, and improving some roads and streets. Other projects are collaborating as well, such as the Oxfam-ESFRA-ISMU partnership, which offers wood and roof sheets to people who need to repair their houses. They also provided residents with a demonstration area, located in sectors 3 and 4 of Nuevo Amanecer, Zone 21. The demonstration area has a small paved street and a fluvial drainage system. It represents an example of adequate planning, in contrast to the slippery dirt road we had before. It is worth mentioning that the houses on each side of this new road will be more adequate, since most families are set out to rebuild them with blocks, instead of using traditional materials (carton and metal sheets).
Training is the most appropriate means for advancing change and improvement. To this end, the first outcome of the program is capacity-building by establishing and training the Local Coordinators for Disaster Reduction (COLRED), so that these communities are organized and able to respond to an emergency situation.
Mr. German Armira is an active member of COLRED. He is 71 years old and has lived in Joya 4, La Verbena for about 45 years. He stated that, "We were taken into account when these five groups (brigades) were created here in la Verbena. Our job is to raise awareness among those who live on the edge of the ravines. It is not an easy task to evacuate people, because they first must make that decision, and they don't want to leave the neighborhood or the ravines. Besides, they have to go back because they have no other place to go to."
A large number of people in these settlements have invaded these areas, despite the fact that they have been declared uninhabitable. Since they cannot find other places to live, they build their houses with hardly any material, hovering precariously over the hillsides. Every day, small children and elders walk up and down the steep, narrow streets. Even an elderly woman on a wheelchair is carried with difficulty by her family members. Their problems worsen when it starts to rain: from flooded houses and broken drainage pipes, to more dramatic stories, like the one Ms. Patty Baquiax, coordinator of Milagro de Amor, located in Tierra Nueva II, told us: "Other people are more affected by the water. Sometimes, you can even see the beds floating. The problem is not as bad up here, but it is down there, in La Joyita, where eight houses are completely gone. We could get the people out of there, and there was a shelter here in Milagro de Amor. There were about 18 families. They lost everything. All their belongings were buried. People gave them clothes and utensils, and thank God they were finally relocated."

People are excited because of what they have learned. They now understand that they must gain knowledge in order to prevent and reduce the impact of disasters. Along these lines, Ms. Aracely Bámaca explained that, "I liked what I learned about first aid because it gives you an idea of what to do to take care of someone. We cover a different topic every other week. I am from Milagro de Amor, and I have lived here for about 15 years now."
As their first step in the process, all settlements have designated a place as temporary shelters in case of an evacuation. Some chose their community halls, while others preferred the dirt courts and playgrounds, where they would establish a campsite, if necessary.
The next step of the program is to design and implement monitoring and warning systems, to be managed by the communities themselves. Once they are put in place, coordinated efforts will be advanced with some institutions that deal with disaster reduction, especially the Ministries of Education and Health, the Red Cross and the fire department. It is expected that staff members of several institutions dealing with disaster reduction and risk management will be trained, and that school and health plans will be developed in all areas where the project is being implemented. Finally, it is expected that material and manuals will be reproduced, and that information and dissemination campaigns will be developed in these communities, in order to increase their knowledge about disaster risk and reduction, foster a new attitude, and develop practices that will help them be prepared to respond to a potential disaster.
This project may serve as an example to other communities at risk. It is expected that project experiences and successful stories will be disseminated among the population at large and institutions related to disaster reduction at the national level.
The European Commission provides impartial humanitarian aid to people in need, without discrimination on the basis of race, ethnic group, gender, age, nationality or political affiliation. In Guatemala, this is being achieved with the financial support of the Disaster Preparedness ECHO Program (DIPECHO).
Ms. Jessica Morales, coordinator in La Joyita, Tierra Nueva II, shared her positive thoughts about the program: "We need a lot of training. What we learn is for the rest of our lives, and this applies to people who live on the edge of the ravines, and to us as well. Now we can help people. God forbid, but if something happens, we can help now. By contrast, if you don't know what to do, you can't do anything but watch."
The most valuable element in the framework of the project is the social network that has been established to help people in need. This is a strong network aimed at working for vulnerable people, come rain or shine.
The project of disaster preparedness in urban settlements in the Department of Guatemala, implemented by the Oxfam GB – ESFRA – ISMU partnership, is primarily related to priority for action 5 of the Hyogo Framework, which highlights the importance of responding effectively to emergency situations. Some project components are also related to priority for action 2, in terms of identifying, assessing and monitoring disaster risks, and priority for action 3, on the use of innovative educational tools to build resilience at the community level.
Project implemented by the Oxfam GB – ESFRA – ISMU partnership, with the financial support of the European Commission