Urban Risk Platform in LAC: An initiative from, for and by cities in the region to contribute to their safe, sustainable development
By Fernando Ramírez Cortés
The complexity of disaster risk management in urban settings
Urban settings in large cities are highly complex from a perspective of public disaster risk management. This is basically due to the fact that risk arises from the city's own transforming processes and depends on its particular physical, environmental, economic, demographic, cultural and political characteristics. A city is a complex, dynamic system that is constantly changing and adjusting its structures and functions to the demands and relationships among people, and between them and their physical/natural or built environments. This complexity is manifested in the simultaneity of hazards and risks that have complex correlations of causality and that are changing constantly due to territorial, social and economic dynamics.
The built environment, which in an urban setting is dense, is the cumulative result of historical processes of formal and informal building. The nature, functions and spatial distribution of this environment are heterogeneous. It is also dynamic, since it ages, renews itself, changes it use, grows and modernizes. It therefore has functional or structural vulnerabilities that vary over time, depending on normative (codes, regulations, plans), economic (e.g. supply and demand for land), cultural (customary use) and demographic (pressure on unoccupied areas) factors.
The flow of goods and services, spurred by modern technological advances, along with an extensive supply of means of transportation and media outlets, drive a complex, dense network of highly specialized industrial and commercial activities that bring with them risk factors inherent in their processes. In addition, they also require adequate levels of service from utility systems (electricity, water, gas, communications, Internet), and waste disposal systems (garbage collection and disposal, and sewer systems, among others). Thus, in large cities, a critical breakdown in one of these systems has, in addition to the direct effect on residents, indirect consequences on the city's economy and productivity that are becoming increasingly more widespread and complex.
From a population perspective, large cities display at least two relevant characteristics: striking socioeconomic differentiation processes, which, among other aspects, lead to the unplanned development of densely populated, marginal areas (usually in the outskirts) that frequently are poorly located, have illegal and informal buildings, and poor infrastructure; are not connected to utility, communication and transportation systems; and have to cope with severe environmental degradation. The concentration of socioeconomic problems in these areas increases the vulnerability of these communities to socio-natural or technological hazards.
The interdependence between cities and their territorial, political-administrative and economic environments, at all levels (local, national, regional and global), also gives them a particular trait from the perspective of risk: the capital exposed (human, technological, economic, political) in a city is enormous and strategic; that is, the possible losses resulting from a disaster have serious implications for the nation or region to which it belongs. This means that controlling these risks must represent a high priority and a prevailing superior interest.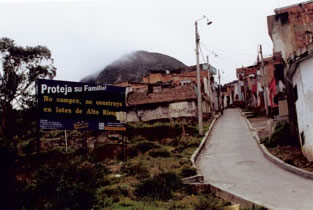 Photo: © OPS-OMS
Some of the primary difficulties of risk management in cities are related to integrating strategies in a setting with many risks; the portrayal and understanding of risk-producing processes; the handling of the uncertainty inherent in this, given the snowball effect that political decisions have on the public at large; methodological difficulties for prioritizing intervention processes, stakeholders and institutions involved; the different levels of analysis, intervention and coordination; crisis management as an everyday characteristic of city life; and fragmentation in the organization and participation of social actors, among others.
The experience in LAC with risk management in urban settings has been a new learning process, in which some large and mid-sized cities are attempting to discover alternatives for disaster risk management and control, integrating it into other development policies, among society's overriding demands, the deficit in formal urban growth, and the political and economic debate over the role of municipalities and other subnational bodies in the development of their countries.
The Urban Risk Platform: An initiative for bringing know-how and skills together
During the first session of the Global Platform for Disaster Risk Reduction of the International Strategy for Disaster Reduction (ISDR) system, held in Geneva, Switzerland in June 2007, the city of Bogotá, Colombia proposed the creation of a Thematic Platform on Urban Risk for Latin America and the Caribbean (LAC) that would support local governments in building skills for disaster risk reduction in their cities. This initiative was endorsed by UNISDR's Regional Office for the Americas, and with support from the World Bank, a workshop of experts was held in Panama, on February 7-8, 2008. The event was aimed at developing a proposal for the conceptual foundation, specific objectives, key actors involved, strategic partnerships and implementation mechanisms for the Thematic Platform.
This initiative builds on and acknowledges previous experiences with the integration of cities for disaster risk management and its rationale is based on the advance of decentralization policies, population growth and concentration trends, and current levels of vulnerability in the cities of the region. It also recognizes several needs: a more in-depth knowledge about certain risks exclusive to urban settings and the relationships among risk-producing processes; the strengthening of existing capacities for effective advocacy at all levels; and the creation of a standing body in line with global policies (the Hyogo Framework for Action) that promotes sustainability in cooperation processes between cities, and facilitates the monitoring of disaster risk reduction in the region.
The main priority of this initiative is to support local governments and build their skills for implementing and integrating risk management policies into their local development processes, according to their own contexts and priorities.
What is the Urban Risk Platform?
The Urban Risk Platform is a network of local governments in LAC that are interested in strengthening the integration of disaster risk management into development processes in their cities, by analyzing common problems, sharing experiences and knowledge, strengthening their own risk management processes and fostering initiatives for cooperation among cities and other strategic actors.
Platform objectives
- Support and strengthen risk management processes already underway in cities; in particular by facilitating and promoting communication and consensus-building processes among the social actors involved. This will lead to decision-making for adopting and applying disaster risk reduction policies.
- Support and strengthen local governments' capacity for political advocacy to influence their own social actors, as well as national governments and other strategic actors.
- Support and strengthen existing initiatives for developing research, education and training skills.
- Develop a global perspective encompassing the past, present and future outlook on disaster risk in the region's cities.
- Promote and facilitate consistency and coordination with global disaster risk reduction policies (the Hyogo Framework for Action) and with sustainable development in general.
- Promote, support and facilitate South-South cooperation initiatives by seeking support from strategic partners, and searching for technical and economic resources.
- Facilitate coordination and relationships with other alliances or associations of cities and countries in the region.
Platform activities
Following the workshop with experts and the preparation of a technical background document, work is moving forward with the phase of consultation and launching of the Platform, which includes the following: identifying and selecting the initial group of representative cities from each of the subregions; working with the local governments in the chosen cities on the dissemination of information about the initiative and its validation; mapping existing networks, establishing partnerships and/or projects among cities; defining the mechanisms needed for the operation of the Platform; and designing a dissemination strategy.
Preliminary results from this first phase are expected in the second half of 2008 and include the following activities: the launching of the Platform (first meeting with local governments), validation of the background document, development of the first pipeline of projects that are of interest to local governments, preparation of the annual action plan, implementation of operating mechanisms and, finally, implementation of the dissemination strategy.
In contrast to similar networks established in other continents, both the idea and the rationale for this Platform have come from and are for the cities themselves. Therein lies the challenge of these first stages in which the initiative of Bogotá is leveraging support from the leadership of the ISDR and the World Bank, to facilitate the transition to an autonomous process led by a group of local governments in LAC.
For further information, please contact:
Guillermo Escobar
(gescobar@fopae.gov.co),
Director of Emergency Prevention and Response for Bogota.
Fernando Ramírez Cortés
(framirez@eird.org),
Urban Risk Platform Consultant.