Hospital Safety is Everyone's Job
"Natural phenomena will always occur, and they will always have an impact on people's wellbeing, health and lives, especially the most disadvantaged among us."
Starting in the 1980s: In 1988, the Coordination Center for Natural Disaster Prevention in Central America (CEPREDENAC) was created as an agency to promote regional cooperation on disaster prevention in the countries of Central America. At the time, the Strategic Framework of the Regional Disaster Reduction Plan had the following guiding principles: 1. Promote an integrated approach to vulnerability reduction as an indispensable component of development processes, involving a systemic approach for national institutions, promoting it among sectors and at national and regional levels; and adapting the existing regulatory framework. 2. Broaden participation to include other institutional sectors and civil society. 3. Build local risk reduction capacity. 4. Build local, national and regional disaster response capacity.

In 1989, during its 42nd session, the United Nations General Assembly referred to the need to build response capacities, particularly in developing countries.

The UN designated the 1990s as the "International Decade for Natural Disaster Reduction." Many countries and governments promoted prevention work and technical cooperation, and it was already clear that vulnerability to disaster is associated with poverty levels: those who are the most affected are always the most disadvantaged groups of the population.

In late 2003, the Andean Community of Nations (CAN), through the Andean Committee for Disaster Prevention and Relief (CAPRADE), implemented the "Project to Support Disaster Prevention in the Andean Community" (PREDECAN), which has five lines of action: 1. Strengthening of Andean national and subregional systems and policies. 2. Risk information, assessment, and monitoring systems. 3. Incorporation of risk management into land-use, sectoral and development planning. 4. Education and awareness-raising on risk management. 5. Pilot projects to strengthen broad-based participation in local risk management.

In January 2005, during the World Conference on Disaster Reduction in Kobe, Hyogo, Japan, 168 governments adopted a 10-year plan (2005-2015) for achieving a safer world regarding natural hazards. The Hyogo Framework for Action (HFA) 2005-2015 is based on five priorities: 1. Ensure that disaster risk reduction is a priority. 2. Identify and assess risks and take action. 3. Develop greater understanding and awareness. 4. Reduce risk. 5. Be prepared and ready to act.

The priority of the International Strategy for Disaster Reduction (ISDR), chaired by the United Nations Under-Secretary-General for Humanitarian Affairs, is to ensure the effective promotion, coordination, and orientation of disaster reduction at the international level. The ISDR system has been developing global disaster reduction campaigns based on the Hyogo Framework for Action.

"The World Disaster Reduction Campaign looks at how we cope with hazards, serving to raise awareness among decision-makers and the public that there is much we can do to reduce the impacts of hazards." Sálvano Briceño ISDR 2003.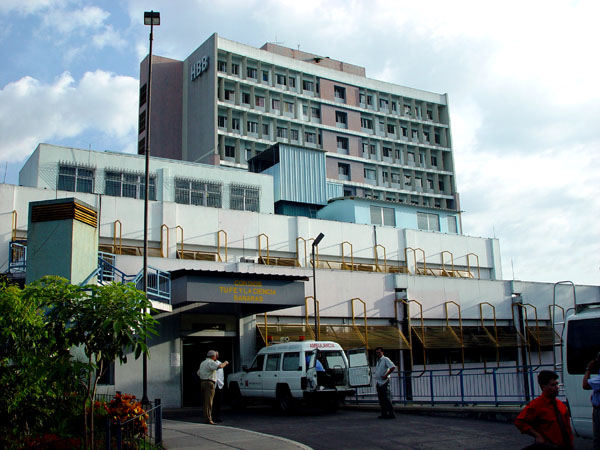 Photo: ©OPS-OMS /J.Jenkins
The global campaign to make "hospitals safe from disasters"
"Integrate disaster risk reduction planning into the health sector; promote the goal of 'hospitals safe from disaster' by ensuring that all new hospitals are built with a level of resilience that strengthens their capacity to remain functional in disaster situations and implement mitigation measures to reinforce existing health facilities, particularly those providing primary health care." Hyogo Framework for Action 2005–2015: Building the Resilience of Nations and Communities to Disasters.

In 2008 and 2009, the World Health Organization (WHO) and the Pan-American Health Organization (PAHO) will work jointly on the World Disaster Reduction Campaign titled "Hospitals Safe from Disasters." The campaign focuses on the structural safety of hospitals and health facilities to ensure that they can function during and in the aftermath of disasters, and on preparing health workers to deal with natural hazards.

"International recognition now exists that efforts toward disaster risk reduction must go hand-in-hand with plans, policies, and programs aimed at achieving sustainable development, poverty reduction, good governance, and the creation of strategic alliances." Dr. Dave Paul Zervaas, UNISDR 2008.

A wide range of activities will be carried out together by the UNISDR secretariat, WHO, and their respective regional offices within the framework of the campaign. Other ISDR system partners will be involved, in particular the World Bank, several UN agencies, the Red Cross, and the various ISDR networks of NGOs, the private sector, academic institutions, parliamentarians, and local authorities.

"All health facilities – large or small, urban or rural – are the target of this campaign. Hospitals safe from disasters are about more than just protecting physical structures. Hospitals are safe from disasters when health services are accessible and functioning, at maximum capacity, immediately after a disaster or an emergency. A safe hospital will not collapse in disasters, killing patients and staff; can continue to function and provide its services as a critical community facility when it is most needed; and is organized, with contingency plans in place and the health workforce trained to keep the network operational." WHO/PAHO 2008.
Safe hospitals are everyone's job
Everyone who works in a hospital, regardless of his or her occupation or position in the hierarchy, is indispensable when it comes to ensuring safety during a disaster.

A poorly run hospital will directly affect the population, whether it is large or small, urban or rural. This is why education and ongoing training on the appropriate management of disaster response and, in particular, the goal of raising awareness of the importance of adopting prevention measures, are key to making a hospital's response to a disaster timely, efficient, and above all, automatic, without forethought, since the lives of the workers and patients in the facility are at risk.

For this purpose, the job of getting a multidisciplinary workforce (physicians, nurses, technical staff, administrators, etc.) interested and involved in voluntarily organizing to participate in disaster prevention with a common goal, and to train them in aspects that are not necessarily related to their jobs, is indispensable for responding to a large-magnitude impact that will affect the health facility and the patients' lives.

Recent disasters in the Americas and in the rest of the world –including Hurricane Mitch, the landslides in Venezuela, the earthquakes in El Salvador, Hurricane Isidore, the earthquake in Peru, the earthquake in China, and others– have provided valuable lessons about damage to health facilities but also about potential solutions that could reduce the impact of disasters on vital infrastructure. More than anything, we have learned once more that in managing an emergency or a disaster, the human factor in the response to an impact is pivotal for saving lives.

In health centers, the lack of resources, planning, prevention, training, supplies, overall and psychological preparedness, and, above all, the lack of interest, stir up overwhelming feelings of impotence and hopelessness.

If on top of this, the hospital lacks a safety and warning system, and disaster response plans and protocols, such an event will have a catastrophic impact on the population.

All the people involved in a health system should be diligently involved in preparing for a disaster beforehand, at the professional and, especially, at the personal level.

Education and training through drills and simulation exercises provide an excellent means for preparing for a disaster in a hospital, if they are conducted in an organized, planned manner and are held regularly (four to five times a year). These practices are an exceptional way to raise awareness among individuals and groups about disasters, which can also prevent widespread panic from breaking out.

When people have rehearsed situations thoroughly, they deal with them naturally, and feel highly competent and confident when a hazard strikes. At the same time, practice helps to psychologically desensitize people and increases their confidence in their capacity to act and to cope with the situation. This also decreases the occurrence and extent of negative psychological reactions, such as denial, panic and shock.

During disaster preparedness, response strategies should focus on training and on activities that are similar to real-life situations. This is aimed at decreasing the level of denial, so that workers can mobilize and protect themselves on their own.

Maintaining acceptable safety levels in hospitals is one of the most complex issues regarding safety in so-called public places. A hospital is a small city but with a higher population density, with all its dangers, risks and hazards. In addition, it is inhabited by sick people and visited by others who are unfamiliar with the place.

Perhaps this complexity, in many cases, contributes to keeping the classic problems in these health facilities from being resolved. There is still the need to conduct a rigorous risk assessment, to keep safety plans and protocols in place, to find technical and structural solutions for buildings, and to provide comprehensive maintenance of the facilities. However, what is needed, above all, is to foster social awareness and strengthen information and a culture of prevention.

For further information, please contact:
Dr. Zonia Luz Reyes Flores
Education School, National University of Trujillo, Peru
Executive Director, S.O.S Vidas Perú
zonialuz@yahoo.com
Professor Lincoln Alayo Bernal
Academic Director, S.O.S Vidas Perú
prevencionpe@yahoo.com
www.sosvidasperu.org