Towards a "Citizen Effort" For the Mitigation of Underlying Risk Factors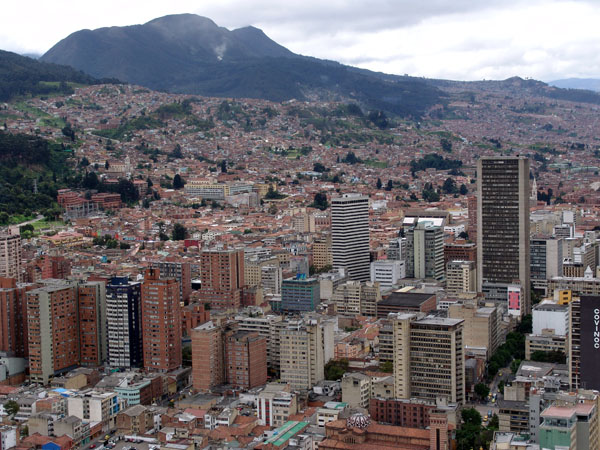 Photo: © Gustavo Wilches-Chaux
Those beautiful cities of stained walls or endless windowpanes. Cities with their constant smell of dampness or sepia tones. Cities embraced by the sea or traversed by a river. Cities where a thousand pilgrim epics have been born and died. Urban areas, which are ever growing and at times progress. It is in such cities where a host of hazards intersects with their vulnerabilities.

Let us recall the Global Report on Human Settlements 2007, "Enhancing Human Safety and Security" presented by UN- Habitat, which states that "The number of major disasters in the world grew from under 100 in 1975 to almost 550 in 2000… Each of the three years with the highest number of recorded disasters has been during the current decade, with 801 disasters in 2000, 786 in 2002 and 744 in 2005 … During the last decade alone, disasters caused damage worth US$ 67 billion per year, on average... It is important to note that 98 per cent of the 211 million people affected by natural disasters annually from 1991 to 2000 were living in developing countries. In Bogota, Colombia 60 per cent of the population live on steep slopes subject to landslides."

In every city, residential areas, government buildings, offices, schools and universities, parks and playgrounds, shopping centers, hotels and restaurants, pedestrian and automobile routes, billboards, landlines and mobile telephone antennas are all part of the everyday landscape that reflects a unique lifestyle. Those who were born and live in this landscape often do not realize that a "conglomerate of vulnerabilities" can harm thousands of lives in once single second, if nothing is done to reduce it.

A genuine "citizen effort" in defense of lives and property requires a commitment on the part of the government, the community, and the different sectors involved, bringing together experts, technical professionals and neighbors who are the "keepers of memories" to identify the underlying risks, factors and root causes, and to work together towards disaster risk reduction and a better quality of urban life with sustainable development.

Let us use our memories and imaginations to conjure, for a moment, those feudal fortresses—epoch cities—assailed by their own disasters despite fearsome moats, crossbows and catapults, despite their impenetrable stone walls (which are now appreciated around the world as historical monuments), and despite their belief that their defenses could surmount any risk. Many of them were lost in the web of history, destroyed by some natural event or by the conflicts and power plays in those civilizations. Let us also remember that Rome burned while Nero fiddled.
An interdisciplinary team conducted the study titled "Prevention and Mitigation of Technological Risk based on Strategic Communication", from 2000 to 2004 at the National University of Cuyo, in Mendoza, Argentina. The study initially focused on the city of Mendoza, with particular emphasis in the sector presenting the highest array of vulnerabilities: the microcenter. We used potential disaster scenarios, in order to design a methodology based on a "window on citizen risk," which in turn enabled us to create a communications strategy to facilitate public dissemination of underlying risks in the city. The idea was that the risks would be recognized by the public, accepted, and therefore, reduced. This strategy design can be adapted to other cities in the region, taking into account their unique identities, the confluence of existing risks, the existing institutional and community capacity, and their perception of hazards. Since 2005, this participatory strategy has drawn on the HFA and the MDGs. The findings and conclusions of our study confirm that, if it is to be effective and efficient in terms of prevention, a DRR planning process must include strategic communication as a crosscutting issue.
In terms of contemporary equivalents to feudal constructions, today "the defense fortress" would not revolve around the "rampart" or the response of highly trained warriors whose military actions were considered an "art form." Clearly, we do not have the same concept of "fortress" today as in medieval times, although the growing trend of barricading ourselves in "closed communities" bears a resemblance to those medieval cities.
The difference lies in the fact that the complicated and complex city of the 21st century requires other actions from us. These actions are more focused on the ongoing observation of precarious conditions and latent disasters that emerge due to the logical deterioration of a metropolis beset by rapid, and usually disorderly, spontaneous and unplanned growth. We must add to this the broad repertoire of new man-made and technological hazards that combine with natural and socio-natural risks.

Mitigation efforts, interwoven with improved organization of activities, ongoing infrastructure inspections, urban development planning, and contributions by formal education, proactive attitudes and behaviors, and more effective communication about risks, will help raise public awareness about prevention from the standpoint of protecting lives.

All of these aspects will form part of the contemporary "fortresses" that we require for our development. This will not be done by raising walls but, as aptly stated in the Hyogo Framework for Action, through "resilience at all levels." This means living in a more dignified habitat in which human beings, men and women, permanent or transitory citizens, can pursue their individual and collective life projects with the appropriate preparedness and enhanced security.

All cities should be a space for living together in peace, where squares, streets, sidewalks, buildings, offices, clusters of pedestrians on the move, and other components conduct us towards an eclectic harmony that ushers in the calibrated concert of a new multicultural "urban race" in prevention. Cities where the trills and tender flight of each bird inhabit the air of the small, medium and large cosmopolitan areas of the 21st century.

Our own wonderful writer, Jorge Luis Borges, has bestowed on us the gift of a poem reflecting his feelings about our capital city:
"BUENOS AIRES"

And the city now is like a map
of my humiliations and failures.
From this door, I have seen the twilights
and at this marble pillar I have waited in vain.
Here the uncertain past and different present
have furnished me with the common cases
of all human fortune; and here my steps
plot its indecipherable labyrinth.
Here the ashen afternoon awaits
the fruit owed to it by dawn;
here my shadow in the no less vain
final shadow will be lost, fleeting.
We are not joined by love but fear,
perhaps that is why I love her dear.
Gloria Bratschi
International consultant
Integrated risk management
gbrat@lanet.com.ar / gloria_bratschi2003@yahoo.com.ar
http://bratschienprevencion.blogspot.com