Local Development and Risk Reduction:
Toward safer and more sustainable cities and societies

Angel L. Vidal
Manager, Delnet Program
International Training Center, International Labor Organization
Alice Vozza
Coordinator, Specialization Course in Disaster Risk Reduction
Delnet Program
International Training Center, International Labor Organization
The Delnet Program of the ILO's International Training Center
In 1998, Delnet (Local Development Network for its initials in Spanish) was created as a program to support local development. Delnet is part of the International Training Center of the International Labor Organization (ITC/ILO), a specialized body of the United Nations. During these nine years, a network has been established in 71 countries. To date, the network has more than 2,000 members that represent a wide range of actors: technicians and managers from public and private institutions involved in local development, such as municipalities, provincial and regional governments, enterprise organizations, NGOs, research centers, universities, and so forth.
Delnet's primary goal is to facilitate access to global and local knowledge in order to help local actors offer well-informed and solid solutions to the common problems faced within their territories. To that end, Delnet offers a series of thematic specializations such as local development management from a gender perspective, sustainable tourism and local development, sustainable local development and disaster risk reduction, and local development and health management. Each course draws on four comprehensive services: distant learning and in-person instruction, updated information and publications, technical assistance, and the exchange of experiences at local, national and international levels, based upon the work done through the network.
For further information about the Delnet Program, please visit: http://www.itcilo.org/delnet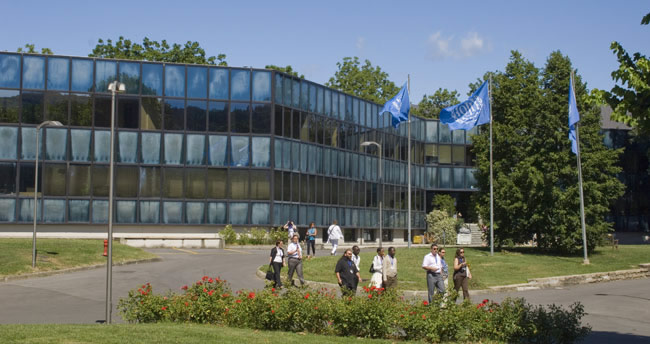 The starting point: Lessons learned
When, Hurricane Stan struck the Central American region in October 2005 —causing serious flooding, landslides and storms— a group of people who had attended Delnet courses used the listserv to send information about the devastating effects of the phenomenon, and called on people to help those most affected member countries, such as Guatemala, El Salvador and Mexico, where the number of victims was highest, as well as other places throughout the continent, which were also affected.
In addition to the messages of solidarity with affected areas, the network members began exchanging thoughts to reflect on the lessons learned for the future, and on a number of specific and appropriate measures that should be implemented to reduce the existing vulnerability in the region to potentially devastating natural phenomena.
This was the first time that the members of our network —devoted to promote local development and decentralization— talked about reconstruction, recovery, prevention and mitigation. This brought about a significant change within Delnet in that, up to that moment risk reduction had not considered as part of its training contents.
The concept of training was also debated when a participant from El Salvador underscored its unsatisfactory results in light of the structural constraints of certain development systems [...] In the region of the Bajo Lempa, now flooded, most community leaders have received training related to disaster prevention and mitigation. There are also evacuation plans in place and perhaps that is why there were fewer fatal victims reported… but Bajo Lempa still struggles with floods. I believe that we should start by looking at why, after seven years, only a few things have been improved.... Is it because training and coordination efforts do not provide us with solutions, or simply because nature is showing us that everything is coming to an end worldwide? What has been the use of the retaining walls built along several roads —and reinforced after the earthquakes in 2001— if they collapsed? Why does the "modelo" neighborhood still flood after the storms? What have we learned from all this? Maybe we should be glad that the number of fatal victims has not increased, but I think we should seriously reflect on the concepts of 'prevention' and 'mitigation.' Prevention 'from what' and mitigation 'of what'?"
Earlier that year, Delnet had been convened to be part of the UN inter-agency platform that was established in Kobe, Japan, to improve the effectiveness and sustainability of post-disaster reconstruction and recovery actions, especially in light of the devastating effects of the tsunami that took place in December 2004. Delnet was not convened due of its knowledge on the issue, which was limited at the time, but because of its vast experience in training local actors. In the framework of the International Recovery Platform (IRP), Delnet was assigned the task of designing and implementing a specialization course, jointly with the ILO Crisis Response and Reconstruction Program. This effort aimed at promoting sustainable reconstruction processes, building the resilience of communities, and increasing the level of professionalism of local technicians and political leaders in the most vulnerable territories; thus contributing to the priorities for action set forth in the Hyogo Framework for Action.
During the initial phase of the process carried out to prepare educational materials, discussions took place spontaneously among the Delnet members (direct beneficiaries of the trainings). This contributed to adapt the approach applied to the needs of those who face structural challenges that contribute to risk.
In the region of the Bajo Lempa, the message was clear: there existed the need to develop other things in addition to a training course. For instance, there was the need to have specific tools, and more immediate and lasting solutions.
In light of this situation, an intensive consulting process took place with professionals and collaborators, political leaders and technicians with vast experience in processes of risk management, local development and decentralization. After conducting research and sharing knowledge, there was a clearer understanding of the connection between economic, social and cultural imbalances and the increased level of risk and vulnerability to natural phenomena. Hazards —both natural and induced by the actions of mankind— have different consequences depending on the capacity of a territory to cope with a potentially devastating event. The key is to prepare communities, which also implies having adequate economic resources available, as well as developing a culture of prevention, fostering education, and having political will and access to information and knowledge.
One of the main aspects of our training approach is to promote awareness of those factors that generate risk and that result from an unjust and unsustainable development system, which must undergo many changes. The system should promote higher levels of social and economic justice in order to reduce existing vulnerabilities and foster respect for our environment.
Thanks to the opportunity provided by UN/ISDR secretariat through its ISDR Informs magazine, this article intends to make public the process carried out during the last two years, aimed at offering specific training on disaster risk reduction, in the context of local sustainable development. Some of the concrete outcomes of this process are described in the articles of this special supplement, which were prepared by course instructors and participants.
The type of training that we have developed is a long and continuous process for both participants and instructors. Now, after almost two years and the implementation of the first pilot course in Central America and the Caribbean, we have realized that the mindset that is being promoted needs to be accompanied by adequate policies, in order to be effective. These policies should not only estimate and distribute costs for potential programs for environmental protection or pollution reduction. They should also tackle, at the local level, the profound causes of injustice and the existing social, political, economic and environmental imbalance.

The political and institutional context in which training is being promoted
As we stated earlier, Delnet's creation of a specialized area aimed at promoting local sustainable development through post-disaster reconstruction grew out of the interaction of several local factors (the expressed demand for training and information about disaster management at the local level) and international elements (Delnet's participation with the ILO in the initiatives promoted by the ISDR in support of the Hyogo Action Framework and towards achieving the Millennium Development Goals.)


In the last few decades, our societies have become increasingly concerned about the recurrence of disasters, their negative impact, the number of victims, and the losses sustained in people's livelihoods, the economy, infrastructure, and the environment. Given this concern, the political and institutional context worldwide is more favorable than ever before towards the promotion of prevention policies. Our course is concrete evidence of successful alliances and inter-agency collaboration between the United Nations and other international organizations (technical and financial support was provided by OCHA, UNDP and IFCR, as well as by the ISDR and the ILO), and at the level of governments and technical cooperation agencies (Japan, Germany, Spain, Italy, and Switzerland).
The training course titled "Disaster Risk Reduction in the Context of Local Sustainable Development," developed by the Delnet program of the ITC/ILO, is framed in the context of collaborative efforts with the ILO Crisis Response and Reconstruction Program (ILO/CRISIS) and the secretariat of the UN International Strategy for Disaster Reduction (UN/ISDR), in support of the International Recovery Platform (IRP) and the implementation of the Hyogo Framework for Action 2005-2015.
For further information about the specialization course, please visit http://www.itcilo.org/delnet

The ILO's overall goal has been defined as "the promotion of opportunities for women and men to obtain decent and productive employment in conditions of freedom, equality, safety, and human dignity," and the ILO, together with all of the United Nations agencies, promotes the Millennium Development Goals. Decent work should be thought of as a catalyzing concept that summarizes the aspirations of all individuals in terms of their professional lives. It also implies better prospects for human development and quality of life. If there is not a comprehensive framework of political, social, economic, and environmental sustainability in place, conditions cannot exist for the concept of decent work to become a concrete reality.
As agents that promote sustainable development, we are aware that globalization has great limitations in terms of justice and inclusion, and we have to ask ourselves constantly how to make our work of raising awareness in the world more effective. We promote local development and, with it, employment, as well as better living conditions and livelihoods in the most disadvantaged areas. But to what extent are development policies in the world compatible with the creation of societies that are safer and more resilient to the terrible damage caused by disasters? How much influence do we really have on increasing or reducing the levels of political, social, economic, and environmental vulnerability?
Given that development implies the use of scarce, and in many cases non-renewable, resources, we cannot remain passive about preserving the environment. In addition to defending and protecting the environment—an issue that is included in Agenda 21 and the Johannesburg Summit—the time has come to foster a proactive attitude that conceives a given territory as a living environment and a strategic opportunity to launch development projects that include sustainability in every facet. In a society that is based increasingly on the concept of "risk" (financial, economic, social, environmental, political and so forth), it would be irresponsible not to be concerned about the hazards implicit in our development processes. This, especially because when risk leads to disaster, the consequences are usually manifest with devastating effects in the most unprotected areas, far away from the places where decisions are made.
As mentioned at the beginning of the first session of the training course, "it is at the local level where the consequences of a destructive event are manifested, but also where the tools for reducing its impact in the future are found, and where sustainable development can be built. If we do not focus on reducing the risk of disasters as part of development processes, and if such processes do not include risk reduction as a cross-cutting issue within these activities, we will make very little progress toward building safe and sustainable societies."
In this political and institutional context, Delnet therefore proposes training that—with the support of national and international institutions—makes the local community the mobilizing element of change.
Disaster risk reduction as a local sustainable development practice
Local development emerged from practical experiences acquired many years ago, when local actors, political leaders, and technical experts began to face concrete problems in the management and growth of their territories. In some regions and continents, such as Latin America, local management began as a way of making up for the lack of response or inability to respond at other levels of government. It came out of a need to mitigate the inefficiencies of centralized management, recover fiscal equilibrium, and take some of the administrative burden off of the central government.
At the same time, as local authorities were incorporated into the political system of democratic elections, a new series of challenges began for local governments. With different degrees of autonomy (depending on the region of the world), they were responsible for finding solutions to economic, social, political and environmental problems that were not previously on their agendas and that had, in fact, been neglected by other government offices.
Based on this background, Delnet emerged in the 1990s as the international community was progressively recognizing the crucial role of local leaders. Its dual objective was to contribute to filling the capacity gap at the local level through training, and to promote the gradual introduction of policy elements in existing decentralization processes. The time had come to add o the "efficiency"2 objective other very important challenges for democratic governance. These included strengthening local spaces, making citizen participation more viable, reducing corruption in decision-making bodies, contributing to equity, promoting social inclusion, and providing access to knowledge and development opportunities.
Local development was therefore seen as a more timely and concrete way to meet the real needs of people, both individually and as society as a whole, and to propose—within the context of an area defined as territory—solutions to complex resource management problems related to the economy, the environment, urban and rural spaces, culture, identity, development and human rights, good governance, and the wellbeing of society in general.
The large and small-scale disasters of these last few years have contributed to revealing the differences that exist, in development terms, among the various countries of the world. As Ulrich Beck, Professor of Sociology at the London School of Economics, said: "The climate catastrophe we are witnessing is not democratic."3 Human and economic losses caused by the occurrence of a destructive natural phenomenon have a much greater impact on the most disadvantaged regions that do not have enough resources to support a comprehensive recovery process. Instability and marginalization become even more apparent when, parallel to the cyclical occurrence of natural hazards, there is an increase in economic interdependence between wealthy countries able to take advantage of globalization's opportunities and poor countries that are unable to protect their subsistence centred economies.
It seems impossible that the solutions to worldwide problems, such as the effects of economic globalization, global warming, desertification, and environmental degradation, could be originated at the local level. But disaster risk reduction involves making appropriate and safe development decisions. The spatial reality of a city or territory should show the concrete results of decisions made to create spaces for social coexistence and cohesion; provide equipment and infrastructure for more balanced cities; ensure that sustainability in urban environments represents a core element for the quality of life of the population; preserve traditional values, culture, and historic heritage; and create employment, socio-economic promotion, dignified livelihoods and business activities and innovation. Local governments must ensure that the objectives of economic growth are not divorced from human development limits. The private sector and civil society should work together in their common interest, recognizing the value of all the resources in a given territory, whether they are material (land, population, nature and so forth), non-material (networks, relationships, culture, social values etc.), or symbolic (identification with the development system, recovery of traditions, sense of belonging, among others). Societies in general should also be aware of the risk that their activities could generate in terms of the territory's proper development or poor development.3
In the vision that we promote in our training courses, local sustainable development is an endogenous process of structural change. The process generates the gradual empowerment of local societies through political decentralization, giving power back to local authorities. This comprehensive process can only originate from seeking the balance that was destroyed long ago in the territory. It must be a process in which natural and human resources are part of the same "sustainable environmental economy."

The content of the training4
Based on this vision, our training courses focus on local development and risk reduction management, from the integrated perspective of sustainability and the use of resources endogenous to the territories.
Disaster risk reduction is an ongoing process of planning, decision-making, and promoting actions before, during, and after the occurrence of a destructive event or catastrophe. It should not be understood as an action that happens only at a certain point in time with a few isolated activities, but rather as a component that is integrated across the board into all the activities of a given territory. It should involve actions aimed at identifying, reducing, or eliminating (to the extent possible) the risks accumulated over time, as well as avoiding the generation of new risks in future development activities. In this sense, it becomes necessary to search for solutions to the structural causes that lead to a higher disaster risk, and not only to address their symptoms.
The training material we use includes aspects related to local sustainable development management, strategic planning, appropriate use of endogenous resources, participation of key actors in development (public, private, and civil society), risk analysis and assessment, disaster preparedness, and post-disaster recovery and reconstruction in order to ensure more sustainable and holistic local development systems in the future.
In this sense, disaster risk reduction at the local level is one of the greatest challenges in the world and also an area of concrete actions, in which political will and cooperation can be promoted. This would help reduce the gap between territories that benefit from globalization and those that are more likely to suffer its negative consequences.
Training outcomes
Not much time has elapsed since we began implementing this new training approach. It would be too ambitious to speak of concrete results and reliable indicators derived from the learning process. When resources are used for training, it is primarily a long-term investment.
At the same time, the short medium term results thus far indicate a positive start of the process. As such, it is very important to highlight the achievements of these two years and the initiatives that are being turned into concrete actions through the training process.
The training course (based on both distance learning and in-person instruction) has developed and used a broad-based participatory methodology, in which both participants and instructors have actively presented and received input on local development and risk reduction, based on their knowledge and capacity. Thanks to the work and commitment of all parties involved, the synergies generated have enabled us to learn valuable lessons, share knowledge and to strengthen the training process itself.
The first outcome—as this publication shows—is that we now have a network of committed participants with a comprehensive vision for promoting local sustainable development as an essential element toward the creation of more resilient societies. It is a network based in one of the most vulnerable regions of the world and supported by governmental, non-governmental, civil society, donor organizations, institutions with influence at the local level in the territories of Central America and the Caribbean that have benefited from the course.
As we have stressed many times throughout our training materials, people are one of the primary resources of all communities. Authorities and socioeconomic actors, members of this new network, have valuable knowledge about their territories, capacities adjusted to endogenous needs, and awareness about the factors that generate risk and hinder development. As such, they are in fact key actors who could ensure that sustainable development is incorporated into their actions while at the same time serve as multipliers of the training they have received.
At the level of each individual participant, a second direct result of the course is that concrete proposals for local development and risk reduction have been drafted, with the possibility of being implemented on the ground. In fact, several initiatives (some of them described in the articles of this supplement) are already being put in place with the support and active participation of the beneficiary communities.
In El Resguardo del Huila, Municipality of Páez (Cauca, Colombia), three kilometers from the highest snow-covered volcanic range of the country, the Nasa indigenous community is implementing an action plan for strengthening their early warning system as a way to reduce the existing risk and negative impact of disasters related to volcanic activity.
This plan, in addition to being part of the issues addressed in the specialization course, was developed to respond to a concrete need expressed by indigenous authorities who, after the reactivation of the volcano in March of this year, decided to invest their own efforts and resources to prepare the community for future risks. The plan deals with a current emergency situation and has been requested by the population. The community values the use of endogenous and local resources and sees the need to recover and strengthen the culture and knowledge of native peoples. The plan builds on social consensus and inclusion, participation and equal opportunities, and it proposes a medium to long-term vision. The beneficiaries of the plan will actively participate in its design and implementation.
We are also pleased to refer to a direct and concrete result of the training in Honduras, which is reflected in the final project proposal of the Permanent Contingencies Commission (COPECO for its Spanish acronym) Director of Planning, Assessment and Management. The proposal also has the support of the Swiss Agency for Development and Cooperation (SDC). The idea is to develop a "disaster reduction management" model in Colón, a highly vulnerable department on the Honduran Atlantic Coast. One of the components of the training program is that the participants agree to be multipliers of the content of the Delnet training course titled "Disaster Risk Reduction in the Context of Sustainable Development." Three target groups will receive training: 1) central government officials in Tegucigalpa; 2) local government officials and NGO staff; and 3) local actors, municipal leaders, and civil society.
Also, in the Telica River basin in Nicaragua, a project is being designed to incorporate the goals of the International Strategy for Disaster Reduction at the local level. In that area, three municipalities (Telica, Malpaisillo, and Quezalguaque) were affected by recent catastrophes brought on by natural phenomena of high magnitude. These municipalities are also characterized by having a strong component of community work in their local development processes. A revision of municipal planning has been deemed necessary for these communities, and the primary focus of the project is disaster risk reduction as a catalyzing element for local sustainable development and the application of the ISDR goals at the local level.
The project is aimed at community leaders and municipal technical personnel, and benefits a population of more than 60,000 inhabitants. It is promoted by a team of key actors (from local, national and international organizations) and aims to incorporate a risk and sustainable development approach into the municipalities' strategic planning processes and territorial zoning plans, as well as in the implementation of prevention, reduction, preparedness, emergency, and post-disaster reconstruction programs at local and territorial levels.
Finally, in Venezuela, in the context of the ISDR campaign for safer schools, proposals are being designed to reform the educational and school sectors, in order to incorporate disaster risk reduction into the curriculum and promote a culture of prevention among children and youth. Training in this case is intended for teachers and aims to create a network of educators as the backbone of the proposed reform.
Some initiatives for inter-agency cooperation are also worth mentioning. A process of academic and institutional exchange has been generated with CEPREDENAC on issues related to safe development and sustainability in the face of disasters. This has resulted in the inclusion of part of our course content in a post-graduate training that CEPREDENAC is producing in collaboration with the University of San Carlos in Guatemala.

Delnet is supporting this process and will be a partner in the training process.
As it can be seen in the following articles, the list continues. Concrete proposals are also being developed in Costa Rica, Cuba, El Salvador, Guatemala, Haiti, Mexico, Panama, the Dominican Republic and in other places to contribute to building a comprehensive vision of local development. The process uses its primary tool—strategic planning—to incorporate economic, social, political, environmental, and cultural aspects, while valuing the role of the territory and the key actors throughout the entire process.
Though the list is not exhaustive, these examples help illustrate and show the concrete results of how a new training approach can facilitate much more effective work in the areas of local development and disaster risk reduction, contributing to achieve a common goal: safer and more sustainable towns, cities, and societies.




1Letter sent by Yolanda Villar Gómez (El Salvador) to Delnet, a few days after Hurricane Stan struck the Central American region.
2Article published in the Internazionale magazine, Number 701, Year 14. The article is available at: http://www.internazionale.it
3CARRILLO, E. (2007). Buenas prácticas, buenas políticas. Article published in Global Thinking for Local Development, number 3.Delnet@local.glob.
4For more in-depth information on the basis for the content of the training course units, we recommend reading Jaime Valdés' article titled "Training as a strategy for disaster risk reduction, and as part of local sustainable development processes," published in the same issue of the magazine ISDR Informs.