Solid Waste Management in Disaster Situations
Dr. Mauricio Pardón Director, CEPIS PAHO
Dr. Jean Luc Poncelet
Chief, Emergency Preparedness Program, PAHO/WHO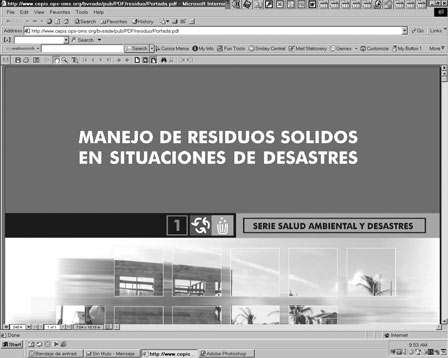 Foreword
The Pan-American Center for Sanitary Engineering and Environmental Sciences (CEPIS/PAHO), jointly with the Program on Emergency Preparedness and Disaster Relief, of the Pan-American Health Organization (PAHO), is pleased to present the Solid Waste Management Guide to Disaster Situations. This guide is the result of a long process of reflection and the exchange of opinions among professionals in Latin America and the Caribbean, who specialize in disaster and solid waste management.
The idea for this guide was initially envisioned after reading the document entitled Environmental Health in Emergencies and Disasters, to which CEPIS/PAHO contributed. This document was prepared by the Pan-American Health Organization and covers the following issues, among others: matters related to debris and other wastes generated as a consequence of disasters, the interruption of collection services, the overload of final disposal sites, and waste management in shelters and campsites. This guide, however, does not address a number of problems faced by our region and, consequently, CEPIS/PAHO considered important to prepare the document that we are now presenting.
Reestablishing solid waste collection services after a natural disaster constitutes a major challenge. This is especially so if we take into account not only the possible consequences of this event, but also the fact that most Latin American countries, particularly in rural and peri-urban areas, lack systems with sufficient coverage.
In addition, the need to have a practical guide was identified during the work accomplished by PAHO/WHO in Honduras (after Hurricane Mitch, 1998) and El Salvador (after the 2001 earthquakes). This document would serve as a guideline for those who participate in reestablishing a waste management system following a disaster, and would highlight the importance of taking advantage of the experiences gained in this field in countries throughout the Americas.
This book describes, in a simple manner, different ways in which a natural disaster affects the waste management system in a locality. It also serves as aguideline for basic actions required to reestablish, in the best possible way, public cleaning services after floods,hurricanes, earthquakes and other adverse events.
Its thematic issues include general guidelines for the participation of the population in the different steps required for reestablishing a service, as well as methodological procedures to calculate the generation of debris after a disaster. In addition, case studies and official figures on recent disasters that have affected Latin America were taken into account.
Addressing a concrete disaster may represent a valuable opportunity to improve the waste management system with regards to the situation prior to the event, both in terms of the service coverage and service equity. We are sure that this guide will contribute to achieving these important goals.
We urge all professionals in the region to write to desastre@cepis.ops-oms.org to make comments and contribute with their experiences and case examples to enrich the next edition of this document.